Most Recent Photo

Series

Character

Special Variation:

My Second Version

Year Completed:

2014

Construction Difficulty: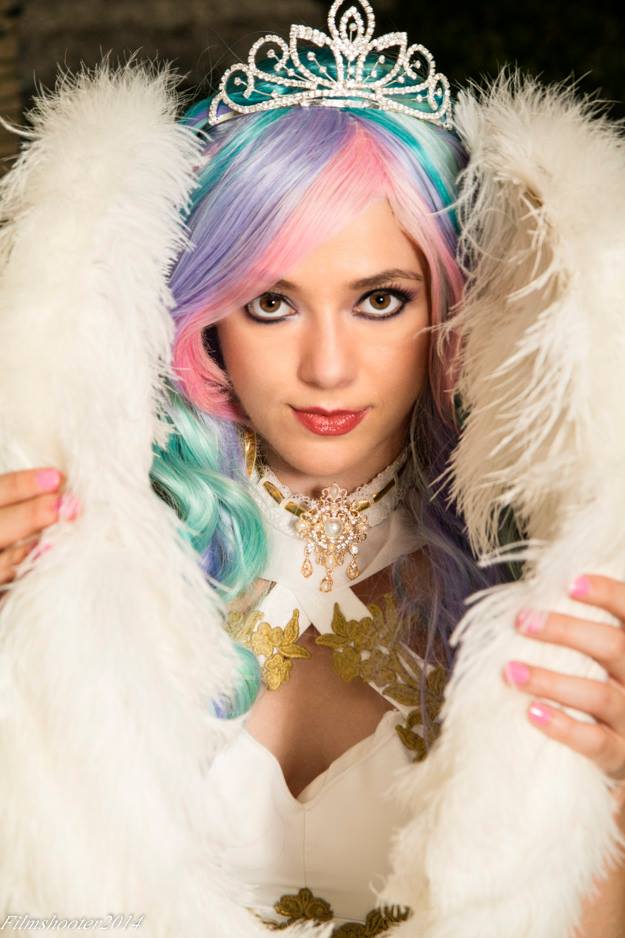 About this Costume
Construction Details:

Shoes are the same gold shoes I use for Angel!Panty. I bought them from a little corner shop somewhere in Austin, then took the scissors to them to get rid of all the extra straps and embellishments it had. (WEAR GEL PADS! THEY SAVE YOUR FEET!) The entire outfit was heavily inspired by a Le Chat De Neige dollfie outfit I saw here ( http://dollfiehome.com/2010/11/06/legend-designer-le-chat-de-neige/100804_a03/ ). The underskirt was from my original Princess Celestia (now destroyed to make this new costume) and was originally created from the Green Pepper Ice Skating Pattern ( http://img0.etsystatic.com/017/0/5266899/il_570xN.523014912_nwxy.jpg ). The bottom of the half moon skirts was printed bridal fabric. I ironed in the pleats, then top stitched them so they would retain their shape. The middle half moon skirt is chiffon. I cut it out, used a solder tool to heat cauter the ends, rolled the hem and added on the lace. The top half moon skirt is the same white bridal satin as the underskirt, with lace hand stitched on. The bodice was free drafted using these two tutorials ( http://www.fashion-incubator.com/archive/saran_wrap_pattern_making_method_1/ ) and ( http://www.fashion-incubator.com/archive/saran_wrap_pattern_making_method_2/ ). I literally wrapped my torso in saran wrap, used a light colored sharpie to draw where I wanted the seams to go, then went over the better ones with a darker sharpie. I cut off the saran wrap, annotated which piece corresponded to which part of the pattern (also made notes how much seam allowance to add) and cut them all out. The bodice is layered, layered, layered. The lining is plain bridal satin, with steel wire boning. The outside of the bodice has a base layer of bridal satin, then either a printed bridal satin or plain white satin, then topped with white chiffon. The collar is free drafted using excess fabric from one of the bust straps (bridal satin, printed bridal satin, chiffon) with chiffon trim (the same chiffon trim from my Kirakishou costume) topped with eyelet lace that I threaded metallic gold ribbon through. The brooch is purchased from Charming Charlies-one of my uber favorite stores! The wings were made using JiaJem's fabulous wing tutorial ( http://jiajem.com/tutorials/wings/ ). Besides adding tracts in the back of my corset, I also added two small straps with snaps on the ends. The straps wrap around part of the wire of the wings and prevents them from becoming lopsided from all the weight. I bought a TON of ostrich feathers from this gentleman *he's incredibly reliable!* ( http://www.ebay.com/usr/ming209209 ). I was so heavily inspired by the latest Victoria's Secret runway show ~ all the models had such stunning ostrich feather wings! The lace medallions were purchased from a myriad of sources, but mostly from ( https://www.etsy.com/shop/Cathyscrazybydesign ) who is wonderful! I hand painted each piece using Lumiere gold fabric paint so that each piece was equal in color. I had to take some medallions apart and rearrange them to get the proper look of a Royal Princess. The wig was purchased from Arda at ( http://arda-wigs.com/products/candy-striper-harmony ) and is so much more beautiful than the wig I created for my first version of Celestia!

Personal Thoughts:

I'm still a very huge fan of Princess Celestia from My Little Pony Friendship is Magic! I know she's not getting a lot of play in the current season, but I still admire her love and her strength. She's strong, kind and an accomplished leader, traits I admire heavily! I'm hoping we'll see more of her and her royal counterparts in future seasons!

My second attempt at Princess Celestia.....the first version wasn't so bad, but I had to cut so many corners and compromise so much on my original design due to financial constraints! I'm so incredibly happy with how this costume came out, and how it fits my original ambitions! Celestia is a fun character to cosplay ~ and the free bananas you get are very nutritious! ;) I do plan on cosplaying her more often, and I even bought some beautiful lace wrist adornments from a Lolita Store that I need to embellish and add to this costume!
Add a Comment