Most Recent Photo

Series

Character

Special Variation:

Book 2

Year Completed:

2014

Construction Difficulty:

Costume worn at: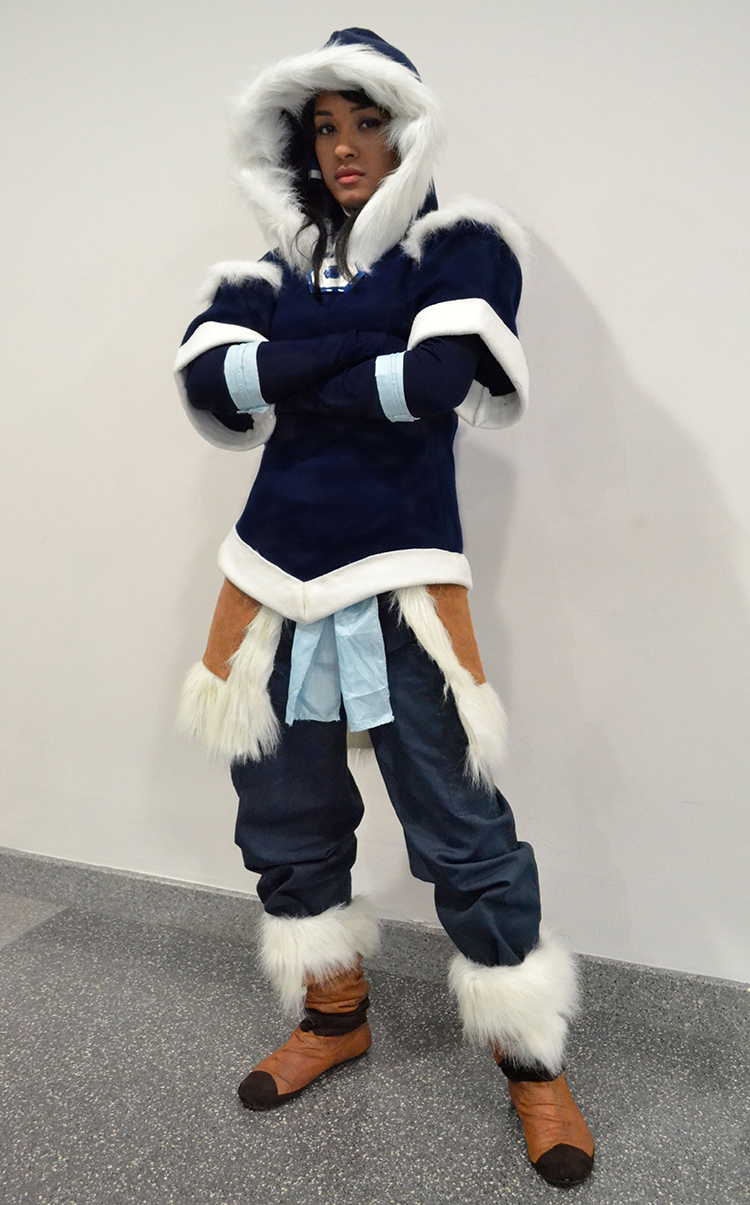 About this Costume
Construction Details:


*Hair Accessories*
Made out of white spandex and blue spandex I dyed myself to get the tone I wanted. I used rolled up plastic to give the fabric more support for that cylinder effect.

*Shirt*
Much easier the second time around but still tricky XP.I used white spandex and blue spandex I dyed myself to get the tone that I wanted. Unfortunately, which still isn't the right blue color but I did my best to make it, turned out way too teal for my taste but I want to try it out again in the future.I used a form fitting tank top as a base for where to cut from and then I added a few more inches to account for the turtle neck portion. I cut out the front opening and then sewed white spandex all around the top and sewed both pieces together. I didn't sew a zipper; I just slipped it over my head. Once I had it on, I marked down where I wanted the white fabric that goes across her chest to fall and then I took it off and sewed it to position.

*Belt and Pelt*
Lighte brown felt and lots of white craft fur with light blue taffeta fabric for the rope part. I basically measured where I wanted the pelt to fall and cut it out and sewed the pieces of craft fur little by little. I made sure to leave a slit at the top to slip the blue taffeta fabric through.

*Arm Bands*
Navy blue and black spandex for the rearm bands. I used some light blue fabric to make her blue strips that fall on the forearm and sewed it on once I pinned where I wanted them to go on my arm.

*Pants*
I bought scrubs form a department store, they were gray to start with which is what i wanted, because they had the perfect tone. Then I dyed them bluer just enough so that it picks but a blue shade not get entirely blue. Again, my main goal was to make sure it didn't clash with the other blues.

*Boots*
I used some old brown suede boots that I was ready to throw away and I painted in the lighter brown tones with some acrylics. I just made sure to tape off the parts I didn't want to paint first. then I glued craft fur all along the top and I cut out a triangular shape for the front of the boots.

Personal Thoughts:

I did her first outfit... I JUST HAD TO DO THE SECOND ONE!!! I did a lot for the same steps as I did previously for my other Korra costume. This costume was such a milestone for me,. I had a blast being Korra, but I had one fo the most exciting things happen to me in like EVER!! I was invited to a special screening of two avatar episode in which one of the creators, Bryan Konietzko in person. I was speechless. I've been wanting to meet him since HIGH SCHOOL!! TO finally meet him and take a photo with him was the highlight of my day!! Thank you so much Korranation and Nickelodeon for making this possible!!!
Add a Comment