Most Recent Photo

Series

Character

Year Completed:

2013

Construction Difficulty:

Easy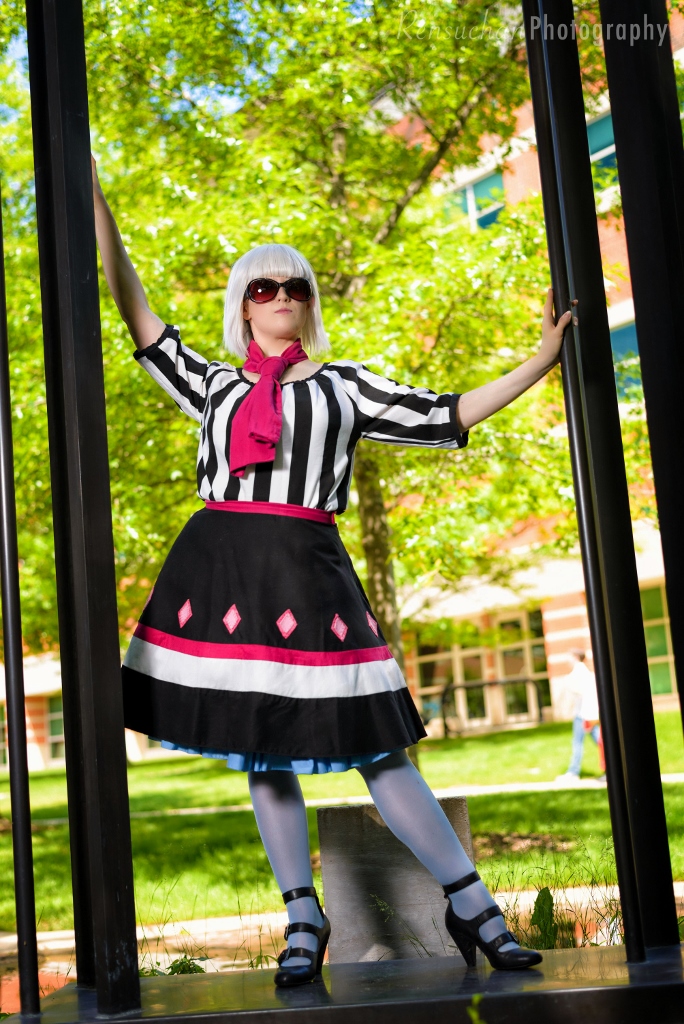 About this Costume
Construction Details:

This was really easy once I found black and white striped fabric. The top is a modified Renaissance chemise pattern made out of a cotton/lycra since I couldn't find a rayon or something similarly silky and drapey. (Correction: I couldn't find any until AFTER I'd made the shirt out of the cotton. Whoops.)
The skirt is twill (black and white) and corduroy (pink), and the diamonds are cotton. I was going to embroider them on but decided pretty quickly that that wasn't going to work; so then I was going to go for satin stitching but was waaaaaay too cheap to spend the money on the special satin thread (pro tip: apparently you can just use regular thread...). Since I already had the embroidery floss I went with a decorative blanket stitch instead, and I like how it turned out, so yay!

I've tried about 6 methods of pinking the sunglasses shades and none of them has worked to my satisfaction. Sharpie was semi-successful but kept bubbling and going on unevenly. Right now they're covered with lamination paper and then sharpied -- that gave them a great, even pink color, but the paper bunched because the lenses are concave. So yeah, still working on this...

Tights are from Ebay and the shoes are from my closet. I also bought a matching blue nail polish for my fingernails.

Personal Thoughts:

I love this! I can cosplay and photograph at the same time! Time to make...DA MAGICS!
Wig Details
Styling Notes

This wig is pretty much made for Photo Finish. All I did was shorten the long pieces in front so they matched the rest of the wig, trim the bangs, and give them a little curl under so they didn't hang into my eyes too much.
Add a Comment