Most Recent Photo

Series

Character

Year Completed:

2013

Costume made by:

Prop made by: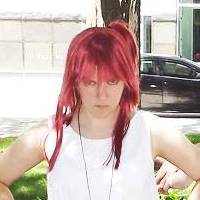 About this Costume
Construction Details:

This is actually a costume my friend Samaru made. The dress is made from white linen with a white kona lining. Simple sheeth dress pattern he followed and then just opened the neck swoop a bit more to follow Morg's dress design. He then made a belt with the white linen. We left a slit in the belt so I could have a pouch to hold my phone/id/cash.

Rajamistu made my medallion piece with fimo clay (shes very artistic) and made it look perfect!!

For the time being I had used black duct tape for Morg's leg straps. I will be making them out of some thick black fabric or maybe some vinyl ish type fabric. One step at a time. This was a last minute outfit to join the group as we had four people for magi.





Personal Thoughts:

Morg is definitely a me character. I'm stubborn but I also really want to be useful and helpful to others. I want to be able to do good for people. Plus shes a awesome and can kick butt :p
Wig Details
Wig Brand

Wig Name

Original Color:

maroon

Styling Time

20
Styling Notes

We cut the bangs shorts and add a pony tail. the rest of the wig since the only one Arda had that would work for Morg was uber uber long, we cut a tonnn a hair off. The back is shorter than the front about an inch or two like in the anime.

Wig Review

rather comfy! I will be restyling this wig soon. I also want to redo the ponytail because its sitting to far back. I need to add lots of wefts into this wig because it is very thin. Morg has thick hair, at least from the pictures and anime. So I want to thicken it up.