Most Recent Photo

Series

Character

Year Completed:

2013

Construction Difficulty:

Difficult

Awards

Judges Favorite Omgcon 2013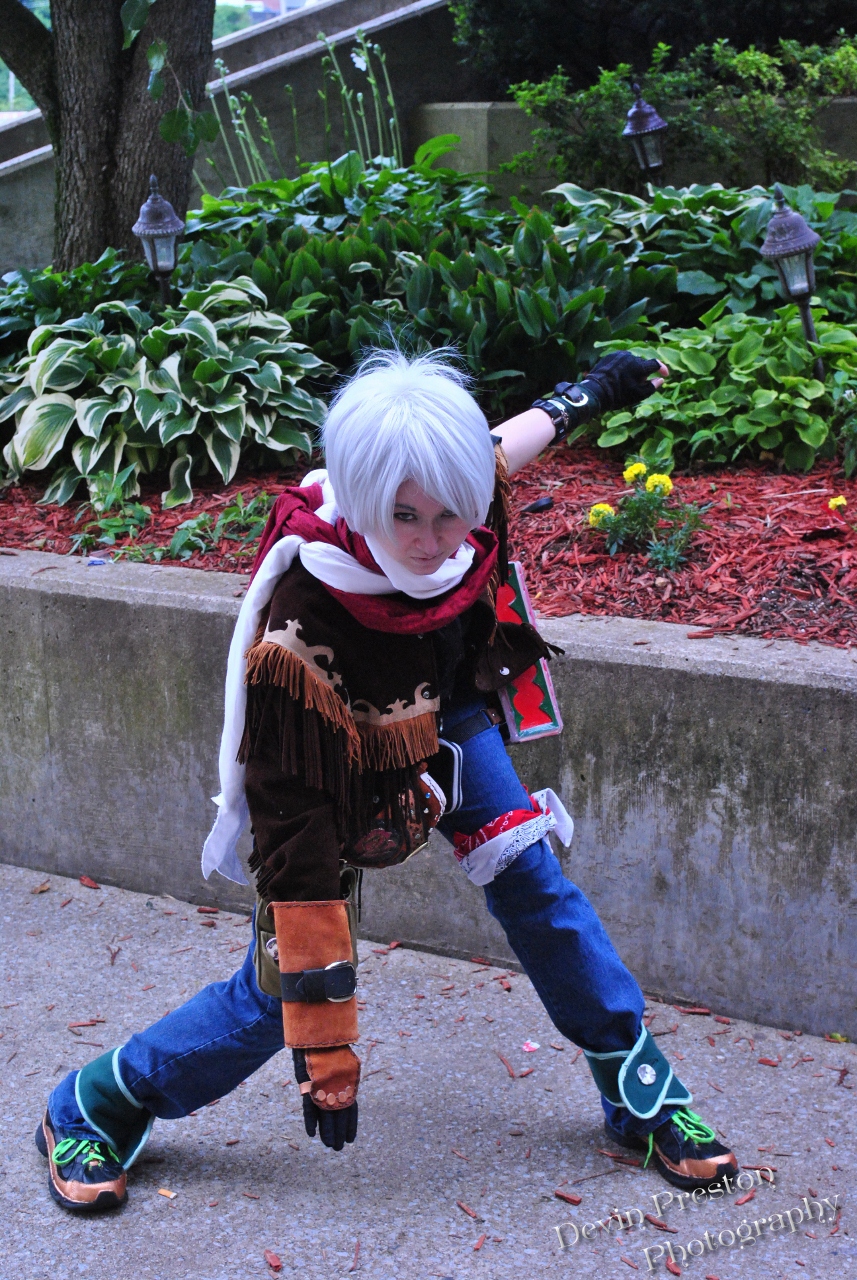 About this Costume
Construction Details:

I used an old 60's suede leather jacket and modified it for his coat and hand leather sewn all the fringe around the design. The design itself is hand drawn and cut out and applied on with heat'n'bond. Used some old pants i had, and a black button up shirt lying around. The bullet belt is one my mother got for me for christmas so I edited and painted that with the clips and rings on it so they just snap onto your belt loops. I had to learn to button-hole to make the ankle covers lol Which was an undertaking. The gauntlet is all hand tooled, painted, and hand leather sewn from scratch pieces of suede and leather. The scarves are 3 yards long a piece and machine sewn. The gun holster was made using craft foam, Popsicle sticks,a padded display board, a leather strap with magnet closure and some duck tape lol. The bandanas are just dollar bandanas. The cut off glove is an old biking glove, and the wrist bracelet is hand tooled and leather sewn by hand. The belt pouch is also all hand tooled and all hand leather sewn and dyed as well as the main belt i've got on. The buckle was also hand sewn and dyed as well as my shoes which i bought black on clearance and painted up to look similar to his and added the green laces for some added personality lol The wig was bought online and styled and cut by me too. The gun was a exploderz gun i bought on clearance and painted up and then craft foamed some armor to cover the pieces up to make it look more like jet's gun.

Personal Thoughts:

I rather enjoyed making this whole costume even though parts of it at times were a bit of a pain to jury rig and deal with lol I went through 3 rotary punches and alot of sanity.
Wig Details
Wig Brand

Wig Name

Original Color:

Silver

Styling Time

1 hour

Wig Quality Rating

5 / 5.00
Styling Notes

Wig didn't take much to style it really, just alot of hairspray and alot of fluffing and teasing lol

Wig Review

I really liked my wig I got for this costume. It was fun, pretty easy to style and manage and it looked pretty good on me (so I was told) lol
Add a Comment