Most Recent Photo

Series

Character

Year Completed:

2013

Construction Difficulty:

Easy

Prop made by

Costume worn at: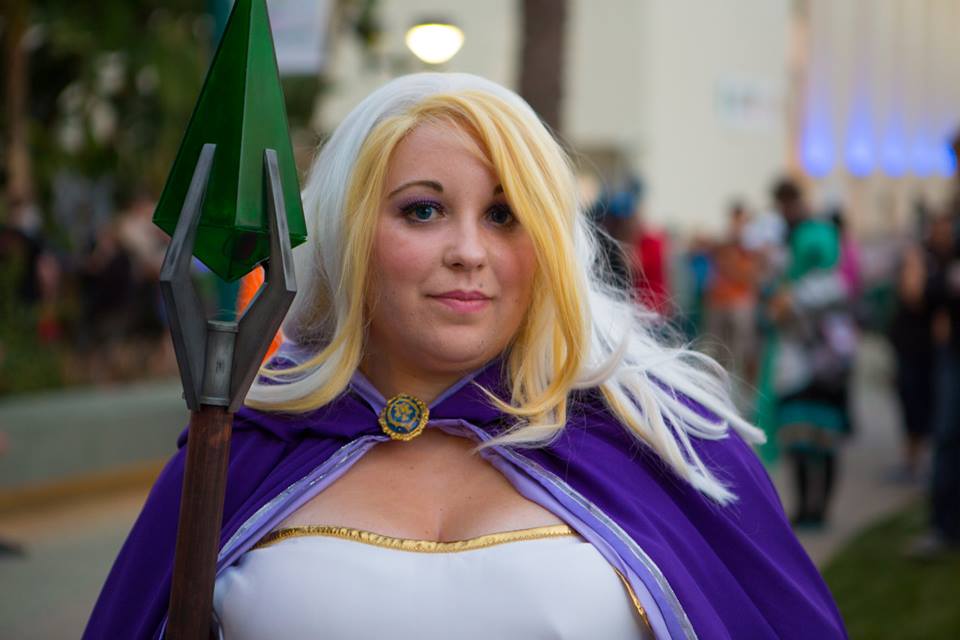 About this Costume
Construction Details:

I blended together the comic, ingame and concept art for this costume. The base dress itself is bridal satin and lined with a lavender fabric, with a deep purple brocade making up the the over skirts, lined with a deep purple satin, which is also in the sleeves. All trims are from Etsy (the one on the skirts and along the top of the gown was hand opened, ironed flat then re-folded), and the runes are embroidered on, and are actual Norse runes, and tell a more embellished version of the prophecy Medivh gave Jaina before she took her people to Kalimdor (and all crystals were hand applied). Shoulder armor is made out of Worbla and covered with gesso then painted and sealed, with some more crystals added in. Cloak is made out of a purple gaberdine and lined with some lavender taffeta from the bottom of my bin, with a brooch made of resin to keep it closed (inlaid with the Alliance symbol, which was done with a mix of nail polish and acrylic paints). For Blizzcon, I took a clear 5 inch ornament, and mod modged the inside with silver blue and purple glitter, and wired an LED so it would look like the Focusing Iris.

Staff made by GS Props.

Personal Thoughts:

I know most people don't like Jaina and give her a lot of shit, but I've always felt really drawn to her as a character, and completely freaked when I heard the book that explains the jump between Cata and MoP was going to focus on her. She's a really strong woman and independent, even after everything she went through. Yeah she'd screwed up a lot, but I feel like towards the end of MoP - as leader of Kirin Tor - she really began to redeem herself.
Wig Details
How was the wig colored?

Wefting

Styling Notes

Since Jaina's hair color changed in MoP, I ended up changing the wig I was going to use. I bought a silver Matilda and originally used a yellow sharpie to streak it blond. I didn't like how that looked, so I ended up taking the front lace portion off of my original Jaina wig (a Matilda in platinum blond), and sewing it onto the front of my new wig. I think it looks a lot better, and has a great seamless look, plus I got the shade of blond I wanted (Jaina's hair was described as being "golden like the sun", so I think the color is perfect for that). I had initially wefted the wig for a severe side part but it was done on the wrong side, so I went back and re-did the wefting on the proper side, adding the entire package of wefts in white so the wig wasn't so sheer.
Add a Comment