Most Recent Photo

Series

Character

Special Variation:

Powered Buttercup

Year Completed:

N/A

Construction Difficulty:

Normal

Awards

Best Journeyman Craftsmanship & Performance

Costume worn at: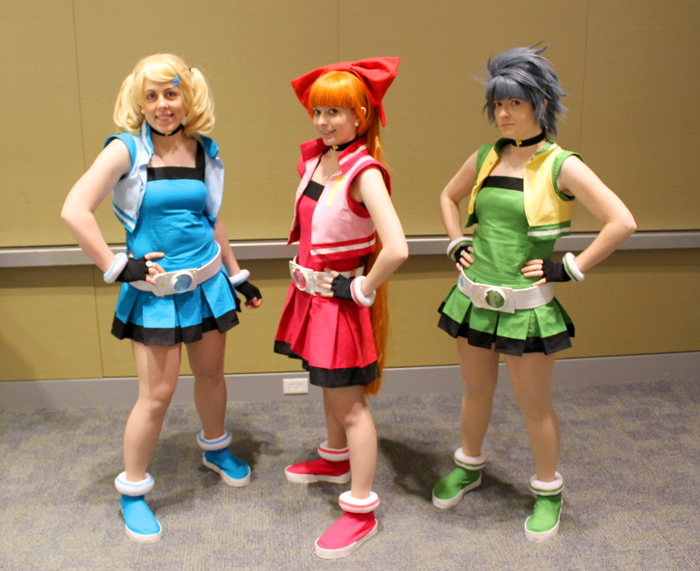 About this Costume
Construction Details:

The costume itself wasn't difficult, it was just the amount of time, money, and stress it cost me that made it one of the most ridiculous undertakings in my cosplay experience so far.

Dresses: I did the patterning and I made mine and Bubbles' dresses. The skirts were the most time consuming, but the bodices gave me lots of trouble due to some initial patterning problems. Dress fabric was also used for the jacket details and shoes so everything would match.

Jackets: Using a vest pattern from VeeCee's FLARP Terezi costume, we just did a lot of fitting and adjusting. I sewed mine and Bubbles' again. I also did all of the stripes and heart details with Neopaque and some custom-made fabric paint. I also painted and sealed some black buttons with our corresponding matching paint.

Belts: CRAFT FOAM + VINYL + HOT GLUE. There were some plastic xmas ornaments involved, hot glue, more foam, paint, mod podge, acrylic dome stickers, paint, hot glue, and hot glue. They close with velcro.

I also bought some neat little flat LEDs used for Disc Golf to make the belts light up just for shiggles.

Shoes: FIRST TIME MAKING SHOES. I patterned covers for everyone's feets and made those out of the dress fabric. The shoes are basically 2 pairs of flip-flops sandwiching the ends of the shoe cover in between. The white foam details hide all. So much hot glue. I was really surprised we could move around in these as much as we did.

Ankle + Wrist Donut-y Things: Painted some white knit with custom fabric paint...sewed it up, stuffed 'em and these were stupid x 12.

Buttercup's Diamond Clips: I managed to find some sizable enough acrylic diamonds on Etsy and I painted and sealed them.

Gloves: Bought 3 pairs of black gloves, cut the fingers off, fray checked and ta-da.

A FINAL THING: I tried really hard and failed really hard to have the prop weapons for Bubbles and Buttercup done in time for Nekocon this year. Both are about 80% finished and I'll probably have them done for the next time we wear these because they're going to look badass. I actually had my boyfriend help me with the hammer since I was so swamped with sewing and everything else.

Uhhh...AND THERE YOU HAVE IT. I think I covered everything.


Personal Thoughts:

PPGZ is a terrible show and while we're all fans of the American cartoon, we REALLY WANTED TO COSPLAY THE ANIME DESIGNS BECAUSE THEY'RE STUPID CUTE. And so we did it. And did a skit. And there were pom-poms. Asdf.

All of this during my hardest semester in school so far with me working and idk magic happened.
Wig Details
Wig Brand

Wig Name

Original Color:

Steel Grey

Styling Time

2 hours

Wig Quality Rating

5 / 5.00
Styling Notes

I separated the huge bang-front in two and cut out her straight bangs and used the rest to cover up the teased anime rat's nest. I cut the bangs with scissors and the rest got the razor treatment. At one point we were holding the wig upside down so I could get some spikage going. I managed to get a swirl going in the back and it was just a flurry of gel, aqua net and heat. ANIME.

Wig Review

Worked out fantastically for Buttercup's hair. It was the perfect color for the anime design, it had the best possible concentration of wefts in the right places and I couldn't have worked with a better wig.
Add a Comment