Most Recent Photo

Series

Character

Year Completed:

2012

Construction Difficulty:

Normal

Costume worn at: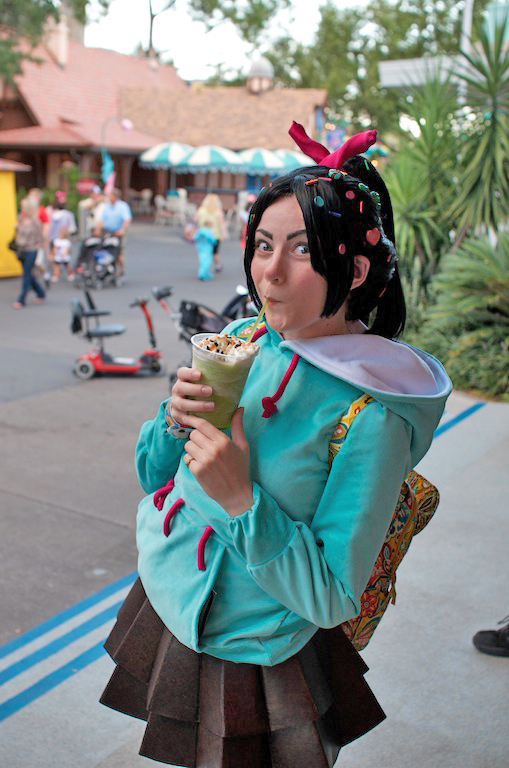 About this Costume
Construction Details:

The skirt I wanted to look like a Reese's PB Cup wrapper so I got this nice vinyl that had a waxy look to it. I referred to AntiAiChan's tutorial for how she made her skirt and was impressed with how well the DecorBond held up my vinyl! Was a bitch to sew, tho...

The gumdrop booties were the same slippers I had used for my Rika sneakers. The licorice cording was hand-sewn to the bottom. They're so comfy and cushy!

For the candy in the wig, they're sculpted from Sculpey and hot-glued on.

I have two hoodies for this: the oldest photos from Metrocon feature the fleece one and the newest ones feature the velveteen hoodie. The new one is MUCH lighter and easier to deal with in the heat.
Leggings made by the wonderful hailo!

Personal Thoughts:

I was already loving Vanellope from what I saw in previews and I completely fell in LOVE with her when I saw the movie. I like the whole idea behind her, that Sarah Silverman keeps bringing up: her biggest flaw actually becomes her biggest asset or her "super power." I relate to her a lot, with being outcast for being different, too. Faced a lot of cruelness as a kid from others when I was just trying to be nice.

Wreck-It-Ralph has easily become one of my favorite Disney films now, which I totally wasn't expecting. But it's truly entertaining and just an overall fantastic film!
Wig Details
Styling Notes

I had to undo the ponytail it arrived with to make it higher. That took a LOT longer than I had expected...I also cut off more than half of the clip-on ponytail so it wouldn't be so top-heavy.

Wig Review

This was my first time working with a ponytail-wig. In the past, I had created my own with the tutorial Jia Crens had created. Jeannie is a PERFECT wig for those that don't want to fuss around with making their own ponytails! And the ponytail clip is SUPER long. I had to cut more than half of mine off, but still, nice to be given the length anyway!
Add a Comment