Cosplayer Ifria
> Costume of Nyaruko from Nyarko-san: Another Crawling Chaos
Most Recent Photo

Series

Character

Special Variation:

Battle Dress

Year Completed:

2012

Construction Difficulty:

Easy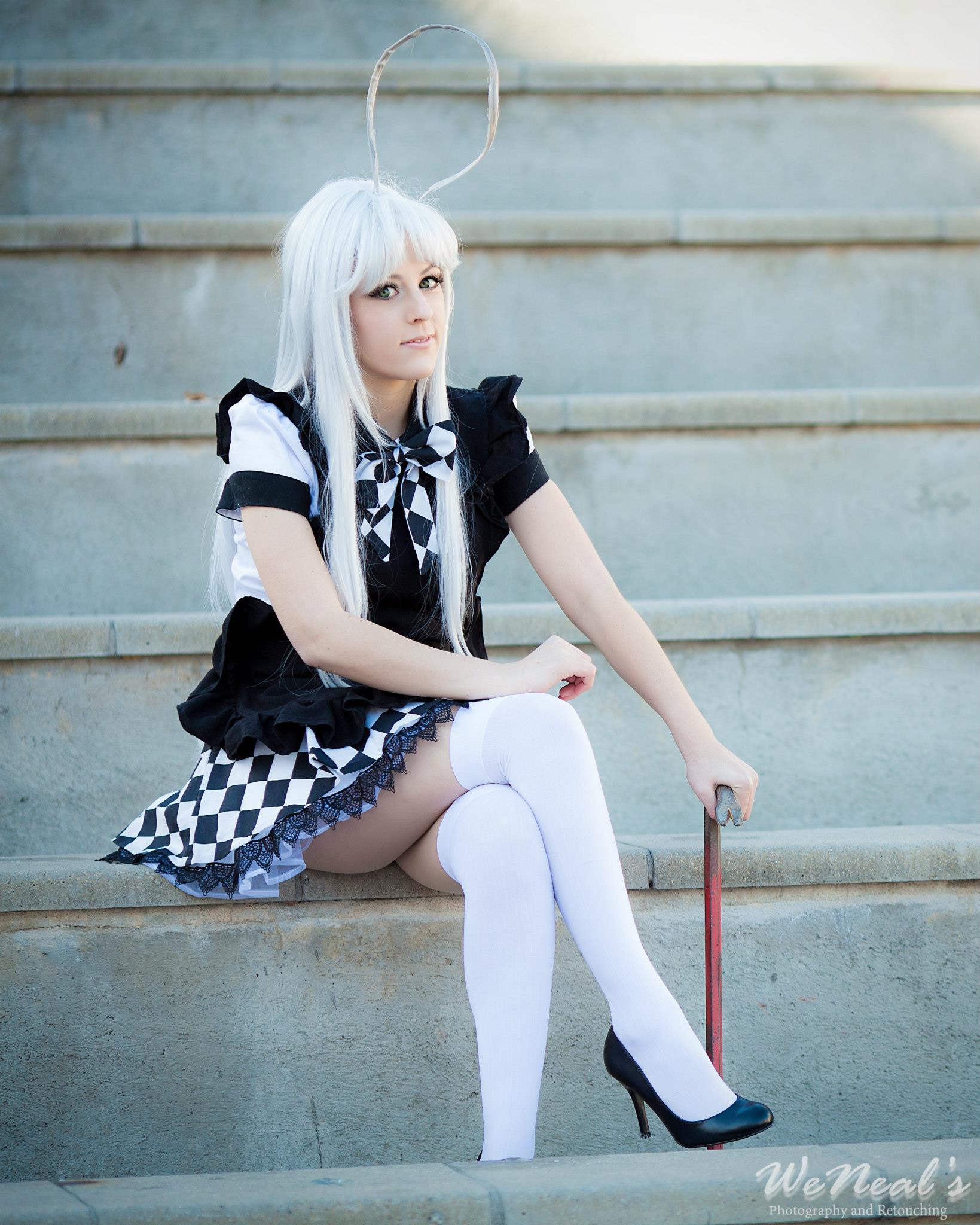 About this Costume
Construction Details:

I never thought I'd say this...but HOORAY for NASCAR prints at Joann! XD That's the first place I was able to find that nice sized checker print! Only problem I have with the fabric is that it has the consistency of cheese cloth. :( BUT it all works out with the underskirt keeping things from getting sheer.
Wig was a really old Cosworx buy that was never put to use. So, I took out all the curls just for this costume. I used a piece of a dying silver wig for the ahoge. The two colors matched originally, but the silicone caulk made the silver on the ahoge look darker than the silver of the wig. SO, I may and up dying the wig a bit to get them to match.
The shoes used to be a super shiny PVC vinyl, but I turned the shine down by giving them a few coats of matte black floral spray. (LOVE that stuff!!)
I whipped that apron pattern out of my ass in a con-rush haze and it actually turned out quite well! I just need to tweak the ties in the back to cinch a bit tighter somehow.

Crowbar is a homemade Half-Life prop that my husband made YEARS ago around the time we first met and he introduced me to the game. It's just been sitting on our mantle, waiting for this costume (not really.)

Personal Thoughts:

This one was a simple one to throw together.
Wig Details
Wig Brand

Wig Name

Original Color:

Silver

Styling Time

15min

Wig Quality Rating

4 / 5.00
Styling Notes

All I did was steam the curls out. :) I may dye it to match the ahoge later.

Wig Review

I've been spoiled by Arda wigs fiber density. :P So, this one feels a bit thin to me in comparison, but otherwise, it's wonderful.
Add a Comment