Most Recent Photo

Series

Character

Year Completed:

2012

Construction Difficulty:

Very Easy

Costume worn at: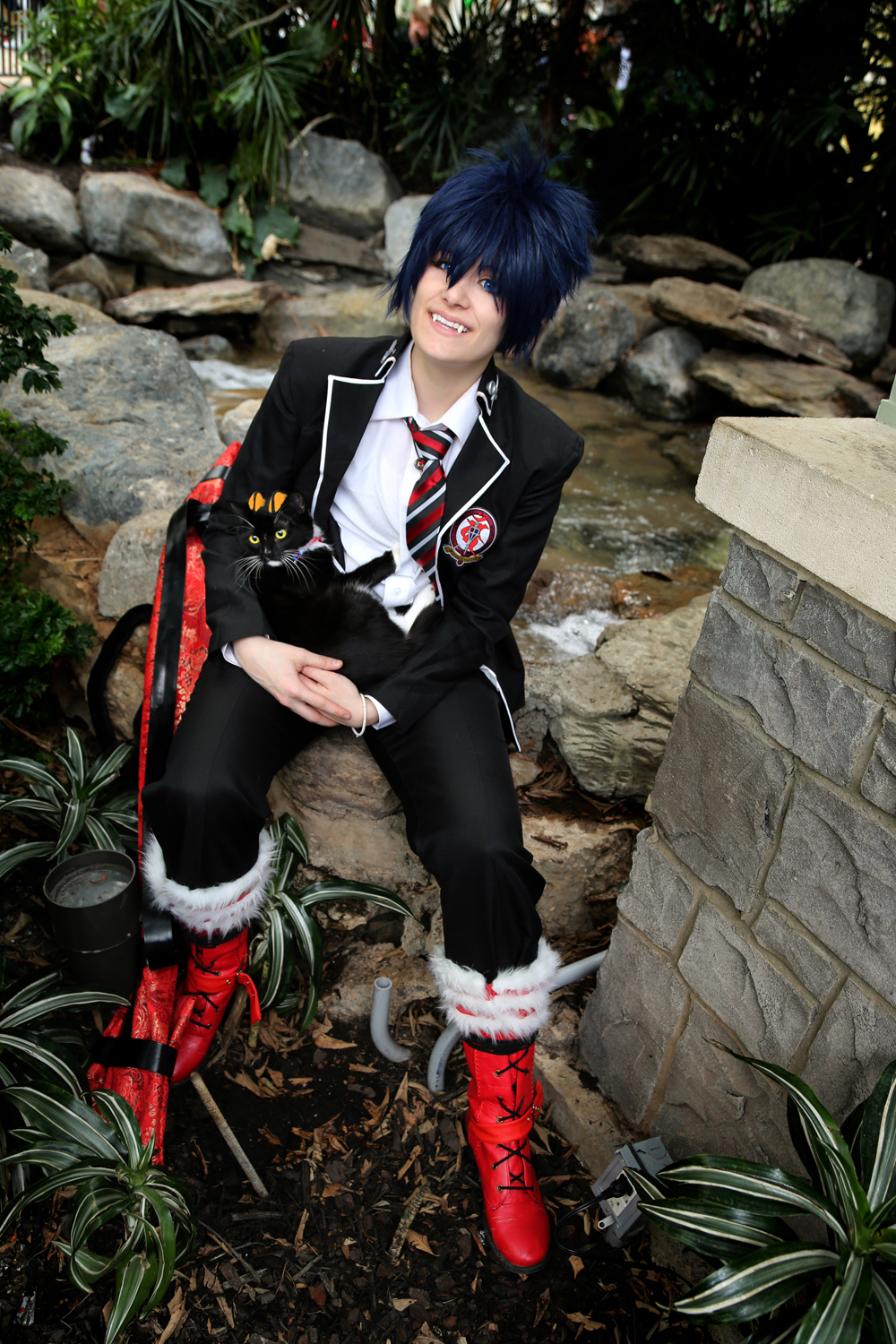 About this Costume
Construction Details:

My Twin/Yukio is my real twin sister :
Miaka2u (http://www.acparadise.com/loves/miaka2u)
Please go visit her too!

Since we can't enter as a group (Yukio and Rin) we decided to combine our entry to the contest onto one account. We didn't want to compete against each other.


I will work my way down:

For the wig I used two wigs, dyed both, and added them together for volume, cut and styled.

The ears were purchased and cut to fit (because I have tiny ears). I painted them with fabric paint in layers to simulate the blood under the thin skin of the ears.

Contacts are dolly eyes in blue.

The fangs were customs that were molded so that would fit to my teeth perfectly without glue. They work GREAT, but are the WRONG color. Still too yellow in the lightest shade.

The ties were made by me. I combined two ties together after making them a thinner shape. I made mine extra long to have a more 'Rin-esque' feel, since in all the art his tie is very long. The symbol was freehanded and cut out of silk, fraychecked and appliqued onto the tie. If you look at my twin and my ties, her tie it slightly wider and shorter so it fit the character designs more.
The patch was the official patch released when the musical came out. It was incredibly hard to find and purchase, but I was able to find only one (I wanted two) and bought it despite the price. It is the most accurate one and includes all the information.

My twin took care of my undershirt, blazer, and pants!

I made the chain out of two wallet chains I fashioned together. I used skulls to give the chain more character and represent "the Son of Satan" personality a little better. The little skeleton was made from two necklaces and some thin leather cording and attacked via a noose-knot. The wallet I made it also accurate to the illustration.

I chose to use the manga version boots since I was making the sword bag's fabric similar to the manga's style. The trim was hand sewn on and the straps on the boots were also added by me. I changed out the laces to be longer so I could wrap the lace around many times.

The tail was made by braiding 3 stands of floral wire together, then braiding 2 more of them and braiding them together. Then adding a wire into the middle and zig-zaging for extra strength. I think wrapped it in batting, and a sewn tube of stretch velvet. I added several layers of fur to the end and styled it. There is a rig of a sideways 8-shaped wire holding the tail and a belt to looped through and fastened to my hips.

Any questions, feel free to ask!

I also made all the accessories Rin has. Including the keys, sword, wallet, skeleton wallet man,

Personal Thoughts:

My Twin/Yukio is my real twin sister :
Miaka2u (http://www.acparadise.com/loves/miaka2u)
Please go visit her too!

I seem to have a strange connection to Rin Okumura.

My nickname is Ran (one letter different of Rin)
I am the oldest of my twin and I
I am mistake as the younger
My twin is a nurse and I am an artist (meaning we're polar-opposites)
My 'step-dad' owns a company called "Paladin LLC"

Good news is I am NOT the evil twin.


Add a Comment