Most Recent Photo

Series

Character

Special Variation:

Fire Festival

Year Completed:

2012

Construction Difficulty:

Difficult

Costume worn at: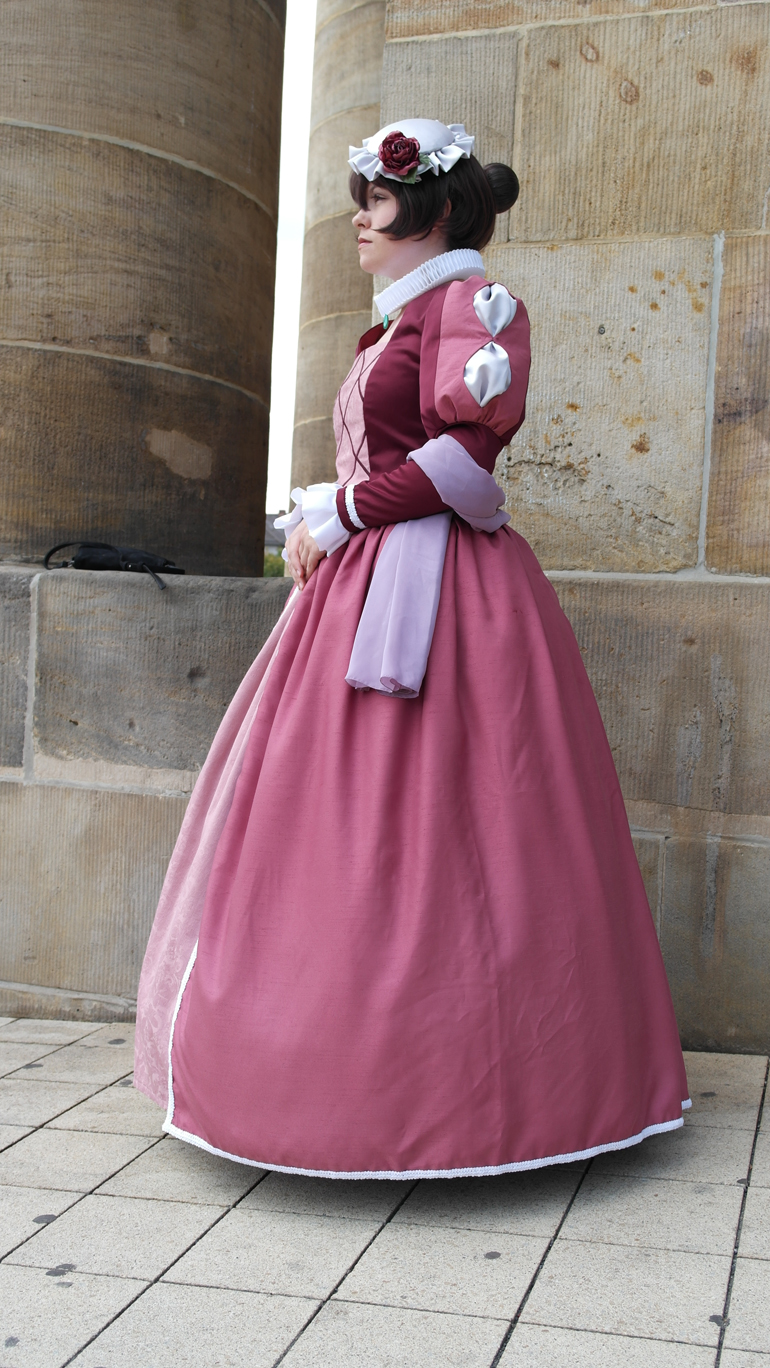 About this Costume
Construction Details:

Starting from the top, and working my way down:

The hat was made by hand, by molding the shape from a fine wire mesh. That was then fabric-mached with layers of thin interfacing, and covered in a heat-formed layer of craft foam. The whole thing was covered in a matte grey-lavender duchess satin. the ruffle was made by hand, and sewn by hand to the hat base. The rose was made by hand using the same custom-dyed polyester shantung that is used on the overskirt and part of the sleeves. It's mounted on a saftey-pin, and pinned into the hat. the whole hat is mounted on a comb, for ease of wear.

The wig is a Derek in 056 from Arda Wigs, and the bun was made by covered a styrofoam ball in felt and matching extensions. It is also mount on a comb, which slides into the base wig.

The collar was made 100% by hand, using 6 yards of grosgrain ribbon and 1/3 yard of satin ribbon, plus some hook-and-eyes. I made a tutorial for it and put it on my youtube channel ( http://www.youtube.com/sumikins )-- the jewel is a small faceted teardrop I bought at a local bead shop, which I painted with metalic green paint, and attached using clear thread.

The bodice is made from a combination of maroon Coat Lining, light pink upholstery fabric with damask floral print, and custom-dyed polyester shantung. The sleeves were a labor of love and required a lot of custom draft work. The sleeve insets are the same grey-lavender satin as on the hat, and the ruffles at the sleeve cuffs are made by box-pleated white crepe. The stripes on the front of the bodice were made by satin-stitching over carefully laid maroon ribbon. The bodice is fully lined in JoAnn's Posh lining, and closes in the back with and upside-down invisible zipper.

the skirts are two full layers, the pink damask underskirt, and the fully-lined polyester-shantung overskirt with hand-sewn white braid trim. Underneith is a 2-hoop skirt that I bought on ebay, and a bridal petticoat which I heavily modified by adding rows of folded, gathered netting.

The shawl is made from hand-dyed polyester chiffon from JoAnn.





Personal Thoughts:

Back in October 2011, I decided I wanted to make this dress for my trip to Connichi 2012. In the end, it's not as 'flashy' as I had maybe hoped it would be, but how close it is to the original design in the show, makes up for that. To me at least.
Wig Details
Styling Notes

The thing that took the most time on this wig was wrapping the extensions around a styrofoam ball, to create the bun.