Most Recent Photo

Series

Character

Year Completed:

N/A

Construction Difficulty:

Difficult

Costume worn at: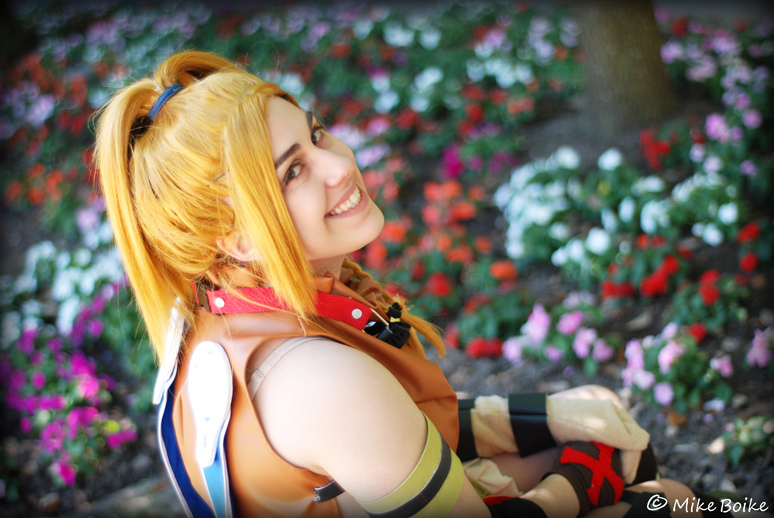 About this Costume
Construction Details:

Leg bag- Self-made pattern. Hand sewn out of vinyl. The studs are flat thumbs tacks that were gold and painted to be silver.
Shirt- Self-made pattern as well. Made the pattern of an existing shirt and kept bringing the final product down until it fit me. Hand sewn from vinyl as well. To do the collar(there was lots of trial and error, mind you) I cut out an extra long strip of fabric, folded it in half, and sewed it on in pleats. After that, I sewed the beads in around the neck line. I made the straps on the sides myself out of left over black vinyl.
Earrings - Made from gold earring bases that I broke the loop off of and painted silver.
Goggles - Bought some biker goggles (that were a really lucky find, btw. They were PERFECT!) And replaced the strap. Pretty much all hot glued together there.
Shorts - The shorts are made from green, denim-ish, upholstery fabric(that was kind of a pain to work with, tbh. It frayed a LOT.) that I found for a steal. I used the M5633 pattern from McCalls and altered it. Before altering it, I hand embroidered the lines in it using a light green embroidery floss. I put the middle part together but left the sides open for the ruffles. (This is when I cut them to length.) To make the ruffle-thingies, I cut out a long strip of fabric that I had lying around in the right colour, folded it in half and pleated it along the edge. I sewed up the sides and put in the zipper. I used an invisible zipper and I sewed it by hand mostly because I didn't want go through the trouble of finding the zipper foot for my machine. I added a waistband, the pattern didn't require one, but I put it in so that my bum had more room in my shorts and so the top of my zipper wouldn't show. Added the button/button hole and I was DONE. The shorts were by far the most technically challenging part of the cosplay, but I'm very happy with their outcome.
Belt - I used a current belt that I own as a template. I made it out of the same material as the shirt and spray painted it. Unfortunately, I didn't have enough spray paint and this eventually resulted in some of the paint rubbing off on my shorts. D:
Right hand glove- I actually used one of my Claire gloves and sewed the red X onto it.
Green armbands - I took left over fabric from the shorts and cut them into a thick strip a little over the circumference of my arm. I folded it in half, right side in, and sewed it. I then flipped it inside-out and ironed it so that the seam was on one side and the other was plain.(if that makes sense at all) When I sewed the two ends together, I also put a long strip of black vinyl and a loop with the buckle in it in the seam.
Left Glove - Had to draft my own pattern (which didn't out very well) and made it out of tan fleece. Added the strips in the same kinda way I did for the arm bands.

Personal Thoughts:

ADGJADKGJADLKFJA I can't say enough on this cosplay. You guys don't understand that I've never been HAPPIER with how a cosplay has come out before. I know I say this everytime, but still. Just- wjktgwepotgawioefg'as.
Wig Details
Wig Brand

Wig Name

Styling Time

3 days

Wig Quality Rating

4 / 5.00
Styling Notes

Spent three days bringing the ponytail up, layer by layer using fabric glue. I used Kukki-san's tutorial (http://www.cosplay.com/photo/1856065), go there for a more in-depth explanation. Got yellow feathers and used markers to put the orange on them and stuck 'em into the braids.

Wig Review

I'm really happy with this wig, though I may or may not style a new one some day.
Add a Comment