Most Recent Photo

Series

Character

Special Variation:

Black and White 2 version

Year Completed:

2012

Construction Difficulty:

Easy

Costume worn at: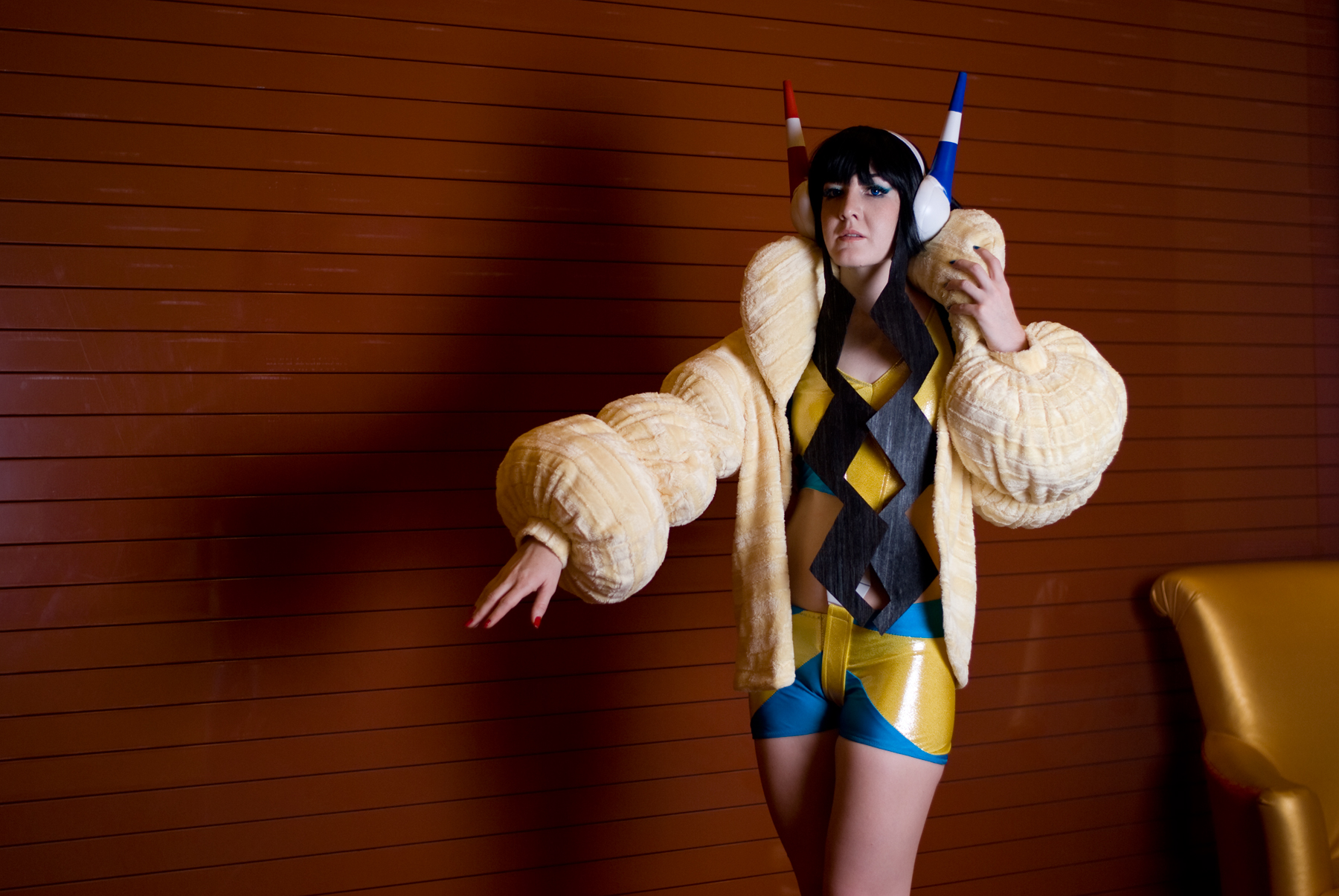 About this Costume
Construction Details:

The two piece boyshort swimsuit was patterned by me and sewn in 4 stretch metallic yellow mystique spandex with turquoise blue miliskin contrasts. The armholes, neckline, leg openings, and bottom of the top were finished with woven bias tape, turned to the inside as a facing, and decoratively topstitched with zigzag. I was really channeling the lightning bolt electric gym leader thing with this costume. The crotch strap as I so lovingly call it was made out of craftfoam. I sewed the yellow spandex directly on to the foam. The belt buckle was made from posterboard layers glued together,then apoxie sculpted upon. It was sanded smooth and painted. The pimp jacket was made from some kind of furry soft yellow stuff I got at SAS for $10/pound. Was it called minky? I can't remember, but I liked the feel and the color. I patterned the jacket, collar and sleeves and sewed them using zigzag stitch. I faced the hem of the jacket with yellow bias tape instead of lining it. The sleeves and collar are stuffed with polyfill and are ultra squishy and fun. I reused my old Elesa shoes, took off the straps, and painted them with krylon fusion. Screw accuracy - there was no way in hell I would wear flats with an outfit like this. The headphones were made from two halves of a plastic sphere (from hobby lobby), two funnels (from ace), apoxie sculpt, a white headband, and a lot of sandpaper and paint. Attaching all the elements together was a challenge, but when cured- apoxie sculpt acts as an incredible cement. They turned out pretty lightweight and are a lot more comfortable to wear than version 1 Elesa's headphones.

Personal Thoughts:

eeekajhgajh Elesa my love. I saw that she got a re-design for b/w2 and thought: "ughh what an ugly outfit.... I WANT TO MAKE IT."

And so it was.
Wig Details
Wig Brand

Wig Name

Original Color:

black

Styling Time

~3-4, not inc. drying time

Wig Quality Rating

3 / 5.00
Styling Notes

ELESA's HAIR IS SO WEIRD. I'd seen some fanarts of Elesa's black hair version where instead of lightning bolt extensions, they were soft and wavy. I considered that option but figured I should try to stick with the original source on this one. To make the extensions I drew the design on posterboard, testing out proportions etc, then cut out a template. Then, I took a giant rectangular sheet of black craft foam, my hair extensions (30" from Epic cosplay), and using a tonnnn of got2b glued hair glue, started adhering the extension hair to the sheet of foam. This took a long time. After the hair was covering the foam, I squeezed on a ton of extra hair glue and let it dry (it took appx. 18 hours). I used half a pack of the 30" extensions per side. If I had wanted to cover the back of the foam I would have needed to buy another pack, so only the fronts are covered. Once both "pigtails" (currently 2 sheets of hair-covered craft foam) were dry, I laid my white template on top, and cut them out. Little bits of hair were still wanting to pry off the edges, so I did another coat of hair glue around the cut edge. I chose to pin the "pigtails" to the base wig instead of sewing them on; it makes travel and packing a LOT easier.
Add a Comment