Most Recent Photo

Series

Character

Special Variation:

battlesuit

Year Completed:

2012

Construction Difficulty:

Very Difficult

Costume worn at: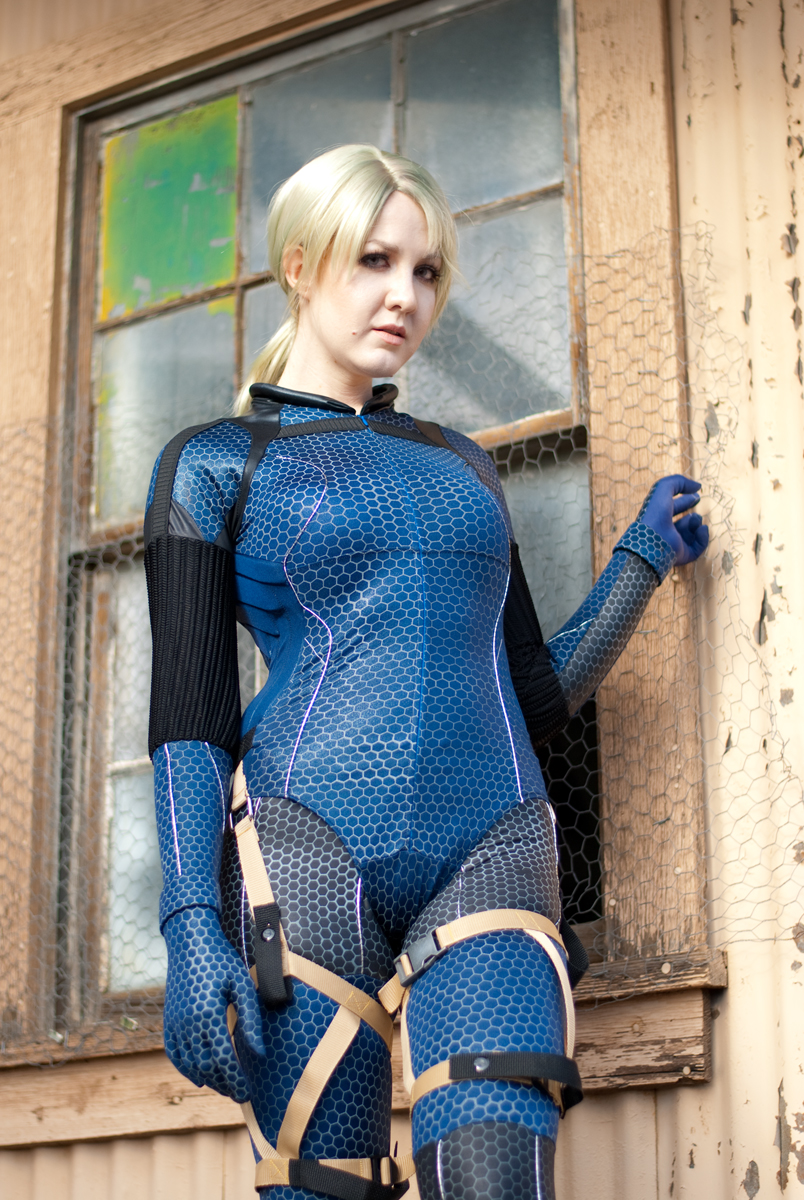 About this Costume
Construction Details:

Where to start? Jill was a huge endeavor that I had in planning for years. All I knew at the beginning was that I wanted the suit to be flexible, comfortable, and skin-tight - not baggy or loose anywhere.

Patterning:
I started by trying to draw out the bodysuit from the in-game model, figuring out where all the seams would be, and how they would connect to one another. Next was patterning. I took my favorite bodysuit pattern (the green pepper's racing suit) and whipped one up in cheap spandex (which I buy by the truckload for such occasions). I drew on all the seam lines with sharpie, and cut them out to make the pattern. Next was pattern testing. I planned to make the suit in two parts: legs and bodysuit. The legs would go seamlessly into her boots, and the bodysuit would have the gloved arms attached. Each element took so much testing to get the pattern right. For example, just one leg has 19 seams (all which ended up serged). The lower arm piece has 6 seams, just on one arm! So there were a lot of pattern pieces floating around that all got labeled and dated so I wouldn't get confused. I remember re-patterning the knee part 3 times. One thing I learned with this is that the human body is not symmetrical - your knee, thigh, arm, whathaveyou is not a cylinder. Once I had a working mock-up that I was satisfied with, I began the long process of silk screening my real fabric with the hexagon grid.

Silk Screening:
Of course I wasn't able to find any blue fabric with a hex grid on it ready made. So I decided to make my own. The fabric I purchased for the majority of the suit was mystique spandex in navy/navy. To get the grid design on the many MANY pattern pieces, I decided that silk screening was the best way to do it. My husband Josh helped me a ton with this part. If you aren't familiar with silk screening (screen printing), the gist is that you stretch a piece of silk or similar fabric between stretcher bars. The fabric is then coated with a photographic emulsion and let to dry (in the dark). Then you get your design which has been printed on clear transparency film (thank you office max!) and lay it on top of the emulsion coated screen. Then you expose it to light for a set amount of time. When your time is up, you RUN to the sink/hose/whatever and spray out the emulsion that has not hardened because it was not exposed to light (essentially the black lines of your design). Then you let your screen dry and you have a re-useable, sturdy, GIANT stencil esssentially. To print, you flood the screen with ink, then use a squeegee to print onto your fabric. I'm sure there's more to the process for pro's, but as amateurs, that's how we did it! It was really tricky to get the print even, and when the ink started to dry (we were using acrylic-based ink) there would be gaps in the hex grid. In that case, I'd run to the sink and try to rinse out all the ink - let it dry - and try again. Once all 34,501 pieces were printed on, I had to heat set them using an iron.

Sewing: The sewing was the easiest part of the costume. All seams were serged or stitched with the straight stretch stitch. I wanted the suit to be sturdy for all the tugging and pulling to get it on! The hardest sewing part was probably the silver shock cord (elastic) that I topstitched over the seams, using a modified zig-zag stitch. This one: ----V----V----V----V. The upper arms were 3 or 4 layers of different kinds of spandex appliqued to one another. The ribcage part was un-printed mystique spandex for contrast. I did that by quilting two layers together and padding the channels with foam. Toasty suit!

Hardware etc: The nodes on the back of the suit were made from rubber dealies that I got at ACE. I didn't want to glue anything on the suit, so Josh drilled holes in them and I sewed them on by hand. FUN. The leg holsters were pretty tricky to pattern on my leg, so I had Josh help me again with that. We used nylon strapping/webbing and melted the ends with a soldering iron. I sewed the bits of strapping together by stitching a large "box" then crossing through the middle because I thought it would look more realistic. The soles of the shoes were covered with fabric when I made the bootcovers. I knew this would deteriorate when I walked around, so I ended up cementing actual 1/4" thick vibram soling to the bottoms of the shoes and the heel! They feel super awesome and rugged to walk around in. Barge cement is hardcore stuff, and worked really well for this task.

Chest Device: I made the chest device by sculpting the oval shaped dome out of clay, making a mold of that, and casting it in hot glue. I tried to tint the hot glue cast with RIT, but that didn't work, so I just lightly misted it with red spray-paint. I then sculpted directly on top of the cast "shell" with apoxie sculpt, embedding bits of brass plumbing hardware as I went. When the apoxie sculpt cured I sanded it and painted it with black metallic nailpolish. I was panicking about not having any paint when I remembered the nailpolish I used for Elesa, haha. It worked really really well actually because it was more of a lacquer than a paint, and has a nice gloss. For the tubes, I had purchased clear tubing from Ace but I wanted it to look like P30 had been pumped through them. I mixed up a gross reddish color of acrylic paint and water and injected it into the tubing using a syringe. I capped off the ends of the tubing with hot-glue so red paint wouldn't leak out while I was wearing it. Josh rigged up the LED's for me, creating a switch that could be tucked into my bra to turn the light on and off.

Wig: I bought this wig long ago for a different costume. It was originally super barbie shiny platinum blonde. The only color I had of fw ink was green, so I mixed up a green dye and sprayed it on the roots etc. After rinsing it out it ended up looking like a slightly dirty-blonde. Much better! Just getting the wig on and styling into the ponytail is a challenge because I wanted it to look as natural as possible. I cemented all of my hair and any flyaways down with Got2b Glued before putting on the wig cap.

Contacts: These lenses are super awesome! They're Brazilian brand Solotica in the color Ice. I love them because they cover up my naturally dark brown eyes quite realistically.


Personal Thoughts:

It has been a dream of mine to cosplay Jill's battlesuit since the very moment I got to her in RE5. I know there's a lot of hate out there for RE5, and mostly it's well deserved, but I freaking love Jill till the end of time. She made that game like 50000 times better IMHO. I love playing with her on Mercenaries; she has the most fun melee attacks (head grab, double knee drop <3). I really hope I did her justice. That's really all I wanted ;_;. I clearly have way too many emotions about this, hehe.
Add a Comment