Cosplayer Qu-ko
> Costume of Alexis Rhodes / Tenjouin Asuka from Yu-Gi-Oh! GX
Most Recent Photo

Series

Character

Special Variation:

Ep. 179 graduation dress

Year Completed:

2012

Construction Difficulty:

Difficult

Costume worn at: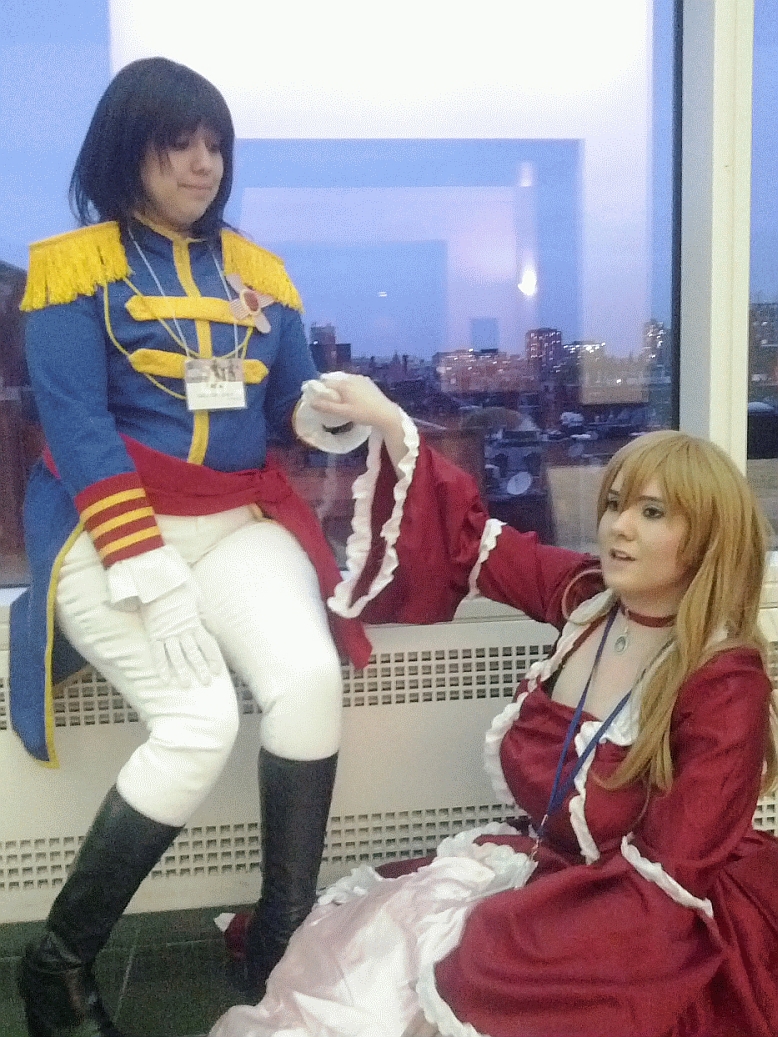 About this Costume
Construction Details:

Yes, this exists!! It's the dress from the fourth season that was never dubbed. And boy howdy, is it gorgeous.

☆ DRESS: Made of burgundy casa satin. The trim is mostly just plain scalloped white trim, and I got a bigger size for the place where the trim is supposed to gradually become a bit wider around the neck. It's all completely one piece. It's layered, too; there's actually two skirts attached at the waist.

★ SKIRT: The pink satin skirt that goes underneath was repaired and fixed up a bit after its debut -- the elastic ripped at Otakon 2011 (whoopsie), and it also frays just as terribly as the dress does. It's double-layered like the dress itself.

☆ SHOES: Red pumps with manageable heels I bought at DSW. Nothing special. They're actually big on me (I have tiny, tiny feet), so I have to wear heel pads at the back of the shoe to prevent them slipping and/or blistering my feet. Multiple pads, in fact.

★ NECKLACE: Ribbon wrapped around interfacing, with a greenish-blue cameo pendant attached to the closest bail to the original I could find. The pendant itself isn't a silhouette cameo, though, it's a flower cameo with a picture of... a tulip or a daffodil, I think. Which matches in both color and floral theme with my Fubuki's rose cameo, incidentally!

☆ OTHER: The hoop skirt gets lots of exercise here. Let's not forget that waist cincher, either! The nice part is that I already have the tits for it. |D I do not have the figure or the legs for Asuka, though, so this is great for cosplaying her without the need for being a naturally curvy bombshell.





Personal Thoughts:

I have a lovely, lovely Fubuki to be my princely big brother for this one. As much of a pain it is to transport and wear, I'm hoping at some point we can find the perfect place to do a new and improved photoshoot now that I've lost some weight, know how to apply makeup a little better, and have generally improved the whole thing.

(We're both astonishingly IC, too. She might as well be my overly-fabulous big brother... sob.)
Wig Details
Wig Brand

Wig Name

Original Color:

Sandy Yellow

Styling Time

maybe 2 or 3 hours?

Wig Quality Rating

5 / 5.00
Styling Notes

Not very difficult. The wig was already the perfect color and length, especially for such an unusual shade of not-quite-but-mostly blonde. Asuka's hair is kind of oddly styled and shaped; I had trouble with the sides and the singular bang, and how they all fall against her face, but a bit of help from friends at the con got them to acceptable shapes and lengths.