Most Recent Photo

Series

Character

Special Variation:

Hell Babies

Year Completed:

2012

Construction Difficulty:

Normal

Costume worn at: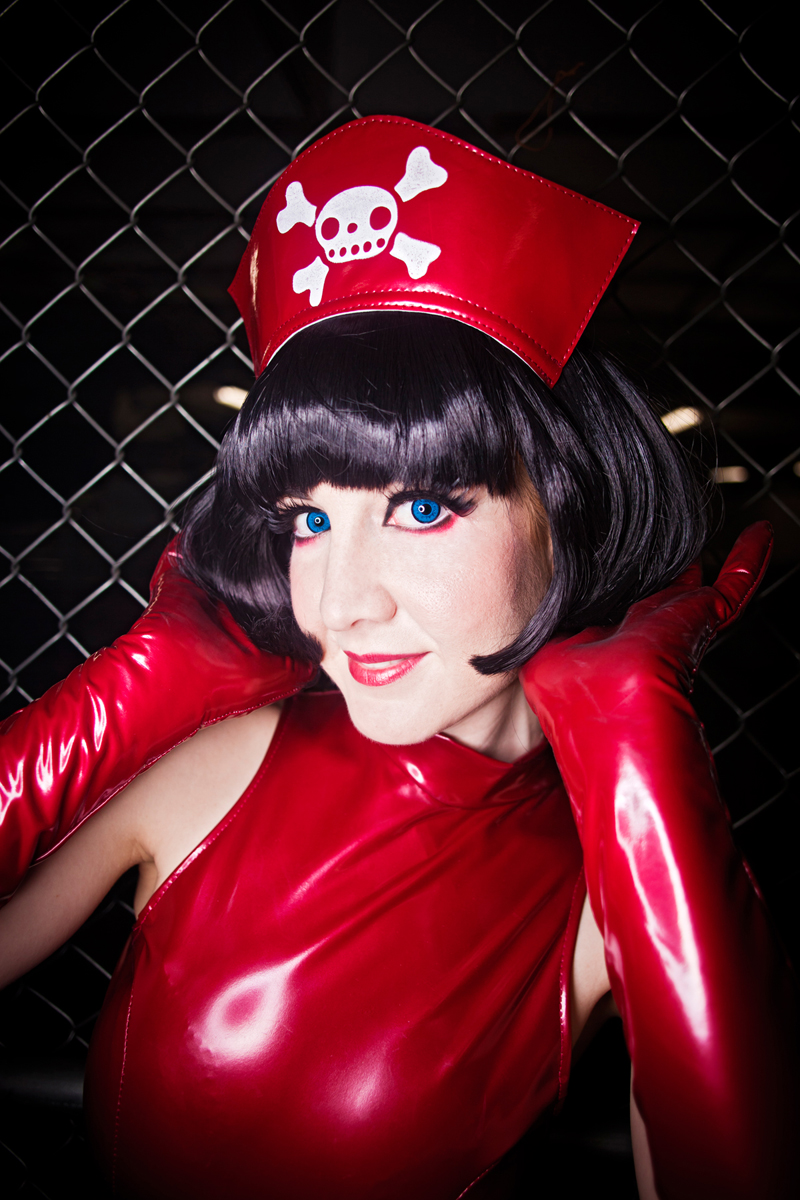 About this Costume
Construction Details:

no i do not have a teflon foot, thank you!

The dress was made of a supposedly 4way stretch metallic wine PVC. One of my earliest costumes was made of vinyl so I figured it would be a breeze to work with now that I am a much better seamstress. Well, I was wrong. This fabric was so unbearably STICKY (on the right sides), that when sewing a seam (with right sides together), the vinyl would stick to itself, wrinkle, not lay right etc etc. I could handle it on the straight seams, but I pattered this dress (from scratch) to have princess seams! UGUUU. Topstitching was also a nightmare since I don't have a teflon foot. I resorted to oiling the vinyl and straight stitching on the longest stitch. You don't even want to know about putting the zipper in the back. :C But once the dress was finished it fit like a glove, yay!

The gloves were made of the same material and I knew there was no way in HELL I was sewing gussets in vinyl. Instead I followed this tutorial for quick and easy stretchy gloves [link] . BEST WAY EVER (and the gloves fit perfectly as well!)

The wig was my old Rao wig, which I had to completely re-style: cutting bangs into it, and curling the wig under. This was actually pretty hard for me since I am not used to heat resistant fibers. I used a curling iron on this puppy and not only did the fibers not melt, they wouldn't even curl!! So it was back to the old rollers + steam for me.

The nurse hat I was worried about, but it ended up being a breeze. I did have to go through 2 silkscreens to get a properly burned image of the skull, which my husband helped me with. We scanned in the drawing and he traced the skull in illustrator, making a vector image of the one Junko drew in the artwork. :3 Silkscreening on vinyl was a little weird, but it turned out pretty decent in the end. I used super stiff interfacing (used in purses etc) in the hat, heatn'bonded the two sides together, then carefully topstitched them together, creating a channel for a narrow metal headband to be fed through. It turned out fantastically because it's super lightweight but stays perfectly in place the whole day.

The boots were purchased and altered. I added the cutest black glittery pompoms to the top and the bottom, and sewed in some grey vinyl down the center. These boots were from Pleaser and are the.most.comfortable cosplay highheels I have ever worn! Highly recommended.

The syringe was the most fun to make and was made from chobani yogurt cups, clear tubing, transparency film, a chapstick container, foam floor mats, a dowel rod, and lots and lots of red glitter! It's fantastic because it comes apart for travel and is really lightweight.



Personal Thoughts:

I have been in love with Junko Mizuno's art but never thought I could/should cosplay from it. I was going to make this as a quick and dirty halloween costume but then got a little too involved...
Add a Comment