Most Recent Photo

Series

Character

Special Variation:

Original Style

Year Completed:

2012

Construction Difficulty:

Awards

Best Original at ABC Con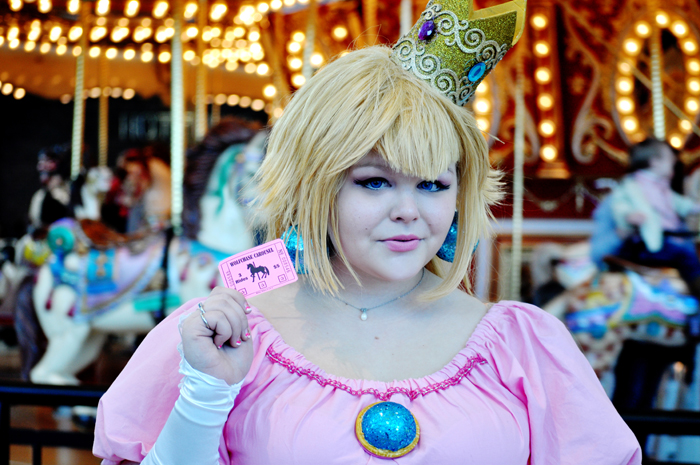 About this Costume
Construction Details:

☆~~** I WONT BEST ORIGINAL @ ANIME BLAST CON **~~ ☆ SO HAPPY! O(≧∇≦)O
_______________________________________

I decided to do Princess Peach for Halloween this year with my hubby as Mario ( he's a short Italian - how fitting! ) I decided to do my own take on Peach's gown and kinda based my design off of all of her dresses.

THE DRESS
The main part of the dress is a candy pink in color and the fabric is cotton. I altered a pattern to make the dress knee length instead of up to my crotch like the pattern called for >_< ( slutty halloween pattern )

The 'short bustle' is a hot pink ( I don't have the exact name of the color - it came from the remnants bin at the fabric store - but it's hot pink ) and then I sewed some ruffles to the bottom of it and used this awesome shiny pink fabric with sliver gems on it as an overlay on top of the hot pink. I had been dying for an excuse to buy that fabric for about 2 years and now now I finally could!! Ooooh and how pretty it is - the photos don't do it justice!

For the 'long bustle' similar to Peach's Smash Brothers on, I found some light pink fabric with embroidered cherry blossoms on it ( only $2.50 a yard!! ) To add some extra princess blingy-ness to the fabric and I am adding light touches of a darker pink glitter glue to the inside of the petals.

I found some VERY PRETTY glittery white lace to outline the longer bustle with.... it's got a holographic look to it- if that makes any sense.

THE CROWN
The Crown is made from glittery gold craft foam. I found the gems at Hobby Lobby and shaped some wire into flower petals to go behind the gems for added detail. I then glued on that pretty swirly design ( dont know what to call it haha ) at the top and bottom of the crown. I found that at the hobby store too.

EARRINGS
The earrings are actually glittery Christmas ornaments. Using a piece of sculpy ( painted with nail polish ) with a hook baked into it I glued it to the clip on findings and then attached the ornament to the hook. I then sprayed the ornaments with clear enamel to keep the glitter from flaking off. These babies are large and SHINY 0_0

BOOBIE GEM
The gem that lays on the chest of the dress is made from magic model clay and one of the Christmas ornaments cut in a half. I originally made a bigger and more oval shaped gem out of resin but it was heavy didn't match the earrings very well.

THE WIG
I was so scared to style this thing.... it turned out OKAY though :) Every lock of hair I cut took a day off my lifespan >_< I will probably restyle it using some awesome tips given to me by another Peach cosplayer. I went with a more natural looking color wig than bright yellow or bright blonde, they just look so fake to me. I styled it using steam, Got 2 B Hair Spray and Got 2 B spiking cream.

THE MAKEUP
Using a high quality primers I primed my face, eyes, lips, and lashes. Then using Coastal Scent's 88 Shimmer platte, I applied a light pink as a base. Then I put a darker pink over the just the lid, a deeper pink in the crease of the eye then used a pretty white to highlight near the brow. I used Rimmel's liquid liner and created a thick cat eye, then drew in 'swooping' lashes at the end of the cat eye with the liquid liner. I set the liquid liner with a black shadow ( be careful of powder fallin on your cheeks ) I stopped the liner just at the bottom of my bottom lashes and lined my water line in white ( Stila's white cream liner - awesome stuff ) to make my eyes look larger and more awake. I then used TWO different kinds of mascara ( this is how you get the 'fake lashes' look ) I used one thick layer of Maybelline's Falsies as the first mascara, then applied Sephora's bad gal's mascara over top, two layers of that. I then applied some really natural and thin fake lashes over top just to add some more length ( my eyelashes are very short ) I put a thin layer on my lower lashes too. Then I put in Blue Geo Circle Lens.
Add a Comment