Most Recent Photo

Series

Character

Year Completed:

2011

Construction Difficulty:

Normal

Costume worn at: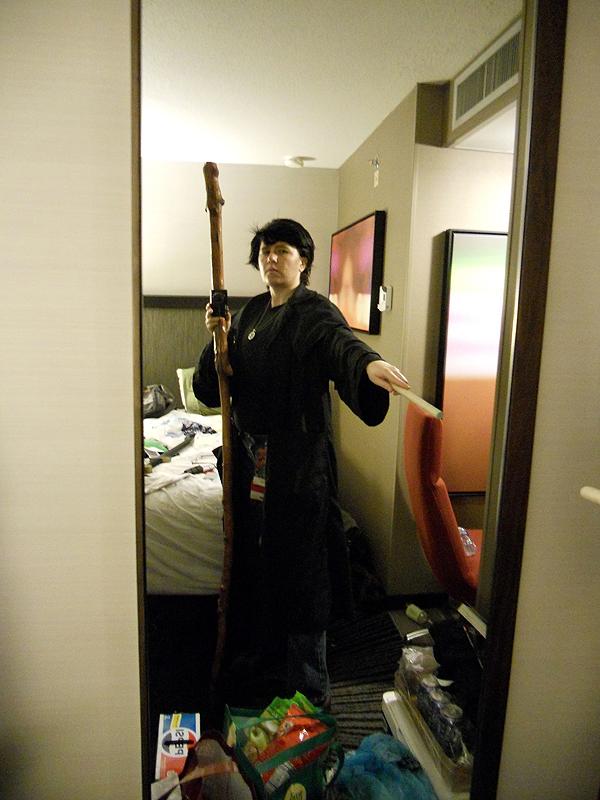 About this Costume
Construction Details:

Throughout the series, he has a couple different looks. I'm slowly working on all three of them.

He started off in a black canvas duster. The original coat was way too big and used the wrong type of canvas. It's being remade using duck canvas and an Inverness coat pattern.

At the end of book 2 he gets a black leather duster. I may have found a place where I can get some leather that doesn't cost an arm and a leg, so I'm going to be using the same pattern and making the leather duster (for use at cold weather cons).

Finally he became a Warden of the White Council. Which means he got a gray cloak. I've got a great cloak pattern and I'm going to get some gray flannel and whip that up.

The rest is simple: black t-shirt, jeans, black work boots. I found the staff and pentacle at a Ren Faire. I still need to sand down the staff and add the runes and sigils. The blasting rod is simply a foot long length of dowel.

Okay, I lied, the last piece wasn't so simple: the shield bracelet. It took a lot of looking on eBay to find the right shield charms. Once I had those it was easy: just attach them to some chain and it was ready to go!

Personal Thoughts:

The Dresden Files is my favorite book series. It took me a while to get him finished. Even now I still have some little details to add to the staff and blasting rod.
I debuted him at the book signing for "Ghost Story". When I finally got up to Jim, he was very impressed with it. He was even more impressed that I made the coat myself.
Wig Details
Styling Notes

So far I've only sprayed the bangs so they'll stay off to the side. I'm going to shorten the overall length before wearing it again.
Add a Comment