Most Recent Photo

Series

Character

Year Completed:

N/A

Construction Difficulty:

Easy

Costume worn at:
This Costume has been retired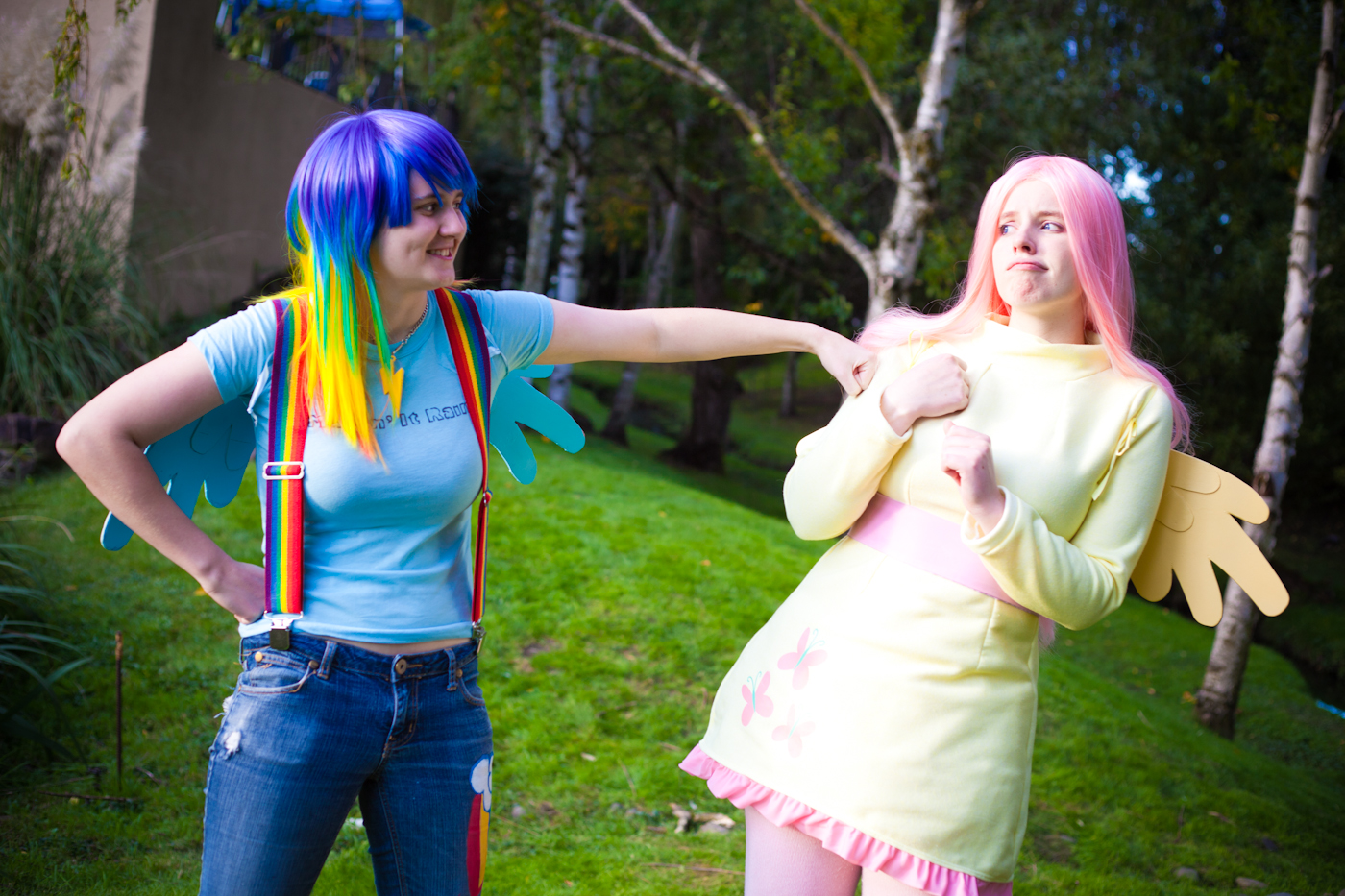 About this Costume
Construction Details:

I love My Little Pony so much! Fluttershy is my favorite because she's so sweet and I can see myself in her a bit. My roommate and I were really digging FIM when it came out and got a group of our friends into it and formed a group.I originally found a really cute fanart of a sweaterdress for Fluttershy and fell in love with it. Unfortunately it was a really bad choice on my part due to my body type and all so I don't think it looks all that fantastic on me. But I figured I'd finish it and wear it so I could sell it and make a new dress for later. The wig is a Le Tigre from Arda in Bubblegum pink. I tried to style it a bit to give it a bang poof but I couldn't go that high due to the nature of the bangs. I also curled it a bit using a hair dryer on high heat and some curlers. The dress was interesting. I decided to make it out of sweatshirt fleece since I wanted it to have poofy sleeves. I couldn't find any light yellow fabric for it though. I had to go and buy white and had dye it myself with some lemon yellow rit dye. I put the sweater together using a pattern and my old Kumatora dress that I had cut up and put in a bag for future sewing endeavors. I added darts to the front and the collar of the dress since having it baggy wasn't helping my figure at all. The ruffle at the bottom was something extra I added to add some length to the dress (the petticoat I bought was short and didn't work that well) and the cutie mark was an iron on decal. I added the belt as a last minute decision with some help from my friends. It's made out of hand dyed casa satin and interfacing. The wings were what I probably spent the most time on. They are made out of thick craft foam with thinner craft foam on both sides to act as the second set of "feathers". I cut this out and then covered it in mod podge as a sealant and to make them a little stronger. I then poked tiny holes at the base of the wings and put two gauged wire through the thicker foam and braided the wires together, putting them in on the other side. I covered the edge of the wings in Apoxie sculpt to cover the rough edges and keep the wires in better. I spray painted a base coat on and then mixed paints to come up with a lighter yellow to match my dress. I then wrapped the wire in a light yellow ribbon and attached some other ribbon to act as a harness. I had a few problems with the wings slipping so I'm going to see if I can come up with a better way to attach them. The socks were bought from sock dreams and the shoes were my old shoes from my Makomo costume that I added foam bands onto. The buttons on them I bought from Jo-Anns and painted them to match my dress.





Personal Thoughts:

Ahhh, I really love this dress and I wish I was tiny so I didn't look huge in it. Oh well, onto Fluttershy v 2.0. Also selling the sweaterdress, includes the dress, petticoatm and belt.