Most Recent Photo

Series

Character

Item Name

Vending Machine

Year Completed:

N/A

Construction Difficulty:

Normal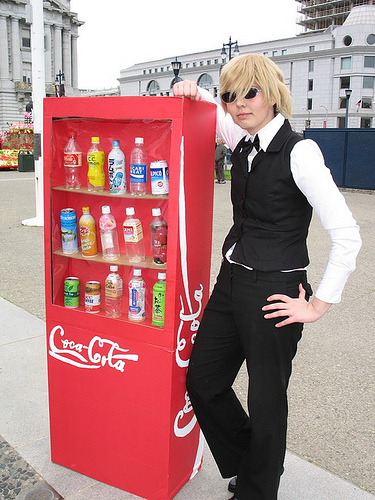 About this Prop
Construction Details:

It's nothing TOO impressive, it just looks cool for photos and such. This cost me: 2 red poster boards (the science project ones) for the front and sides, 2 more (middle for the back, flaps for the top, bottom, and small box in the window), white acrylic paint for the logos, a sheet of Plexiglass for the window, 15 beverages, my stomach, a day that could've been spent not being sick from chugging drinks, and Gorilla glue. My dad helped me attach the internal box securely, as well as the Plexiglass, but I actually can take most of the credit for this, unlike my rifle, haha.

Personal Thoughts:

I'm really happy I did this!! I can't take it to conventions with me, obviously, I just made it for Cherry Blossoms since I could easily drive. Shizuo's such an easy costume to throw it together, but I really love wearing that costume and I really wanted to do something to show how much I appreciate the costume and character. I'd like to add slots and stuff next time, but for now, the lack of a slot is a metaphor for the chance of escape from Shizuan wrath.
Add a Comment