FOR SALE (Costume Only)
Minimum Price: $150
Only worn twice and is in EXCELLENT condition! Here I am selling my very own Luka costume I made myself! Please read all details. Please understand I will NOT be held responsible for the costume not fitting, I give you clear measurements so please follow them to ensure this costume will fit you :) I always provide the buyer with a tracking number and delivery confirmation (this is included in the shipping cost) Size: bust: 36" or smaller Waist: 27" or smaller hips: free cause it's a skirt INCLUDED: - Red kimono top: serged seams/pinking shear cut - Light purple tiered skirt: finished with rolled hem - Gold embroidered waistband belt with bow and embroidered tails - lined - Faux flower headpiece NOT INCLUDED: thigh high's, shoes, wig, fan Red Kimono top: This is a hand-made Luka costume that I made myself from Vocaloid Project Diva. The kimono top is made of semi-matte satin for the red, and the light purple and black sleeves are lined in black and are sewn into the armhole. The red kimono top is serged clean. Light Purple Tiered skirt: Purple skirt was draped and gathered to create a light airy skirt, and has a napkin edge, which finishes the hem of the skirt. The napkin edge creates nice rippling on the hem! The skirt pins close on the front and has a black triangle trim at the top edge of the skirt. Gold Belt with bow: Gold belt has a hook and eye to close and open. The tails of the bow have beautiful purple contrasting embroidery of a flower design that is embroidered directly onto the tails; the flowers were designed by me to be accurate to what Luka has on her design for accuracy! All of the gold pieces are lined in black for a clean finish. Flower headpiece clips in place with a bendy style clip. Purple pleated fabric that comes with the flower has a napkin edge as well that has a contrasting red stitch.
Most Recent Photo

Series

Character

Year Completed:

2011

Construction Difficulty:

Normal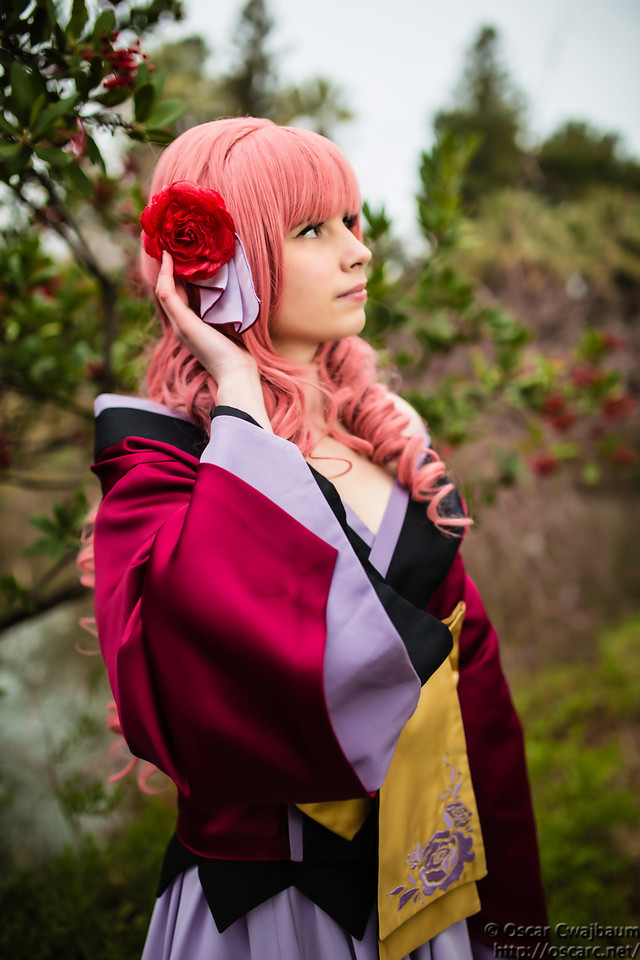 About this Costume
Construction Details:

Pattern for the kimon was provided by maridah! Skirt was draped by me, because luka's skirt has a specific folding and the layers layed over each other a certain way so I tried re-creating that! Trims were made for the edges of the kimono, and the kimono has 3 sleeves, the lilac and black sleeve are lined in themselves, and then sewn in at the armhole to keep the burgundy kimono as light as possible!

I made my own vector art for accuracy of luka's floral design that's on her bow tail, that maridah was able to embroider for me!

Flower was colored with a prisma marker. And I hand-stitched hems here and there to get a nicer edge without a machine stitch.


Personal Thoughts:

Cos plans with my friend maridah. She really liked these costumes and asked if i wanted to do Luka. I said why not, and I've always had an eye for Luka. What can I say i love characters with pink hair! Unfortunately we still have yet to wear them together, but I have really loved wearing this costume :D!
Add a Comment