FOR SALE (Costume Only)
Minimum Price: $250
Sale includes wings, dress, belt, and shoes. WINGS ONLY: $200. Dress size 7, shoes size 9.
Most Recent Photo

Series

Character

Special Variation:

Black Dress

Year Completed:

2010

Construction Difficulty:

Very Difficult

Costume worn at: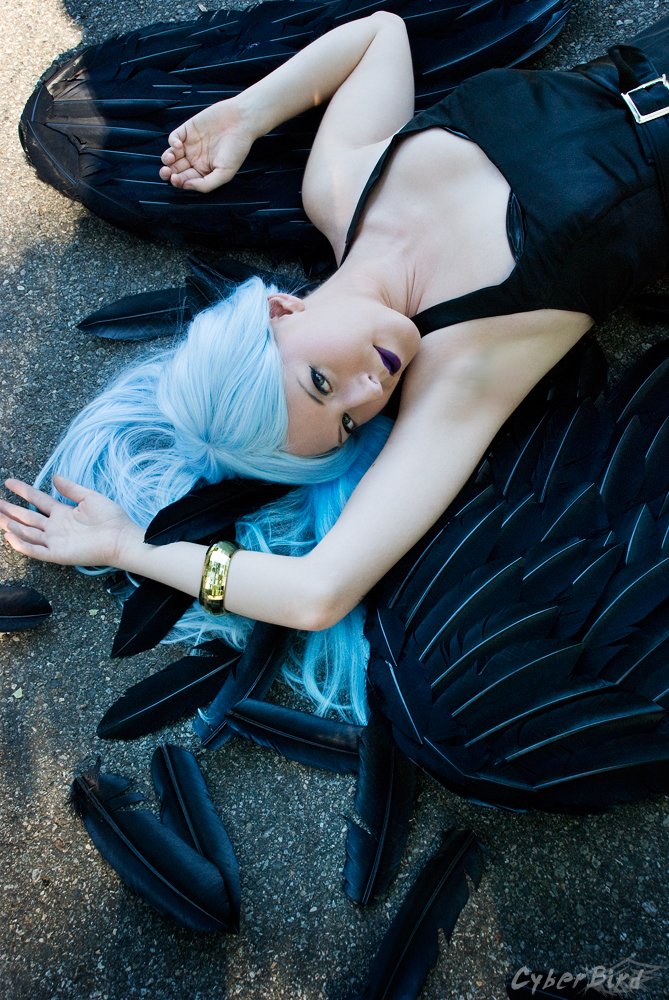 About this Costume
Construction Details:

Little black dress made with an altered pattern and a bolt of fabric lurking in my bin, with some boning along the inside. I don't know why I thought it would be a good idea to make a big pair of black wings for this costume, but I was feeling adventurous, which is a dangerous feeling. All the feathers were hand-cut and glued to a copper wire/chicken wire frame with lots of felt and duct tape and four letter words. I used a black corset I had made for some previous costumes (Sally Jupiter, Trained Seal, etc.) to support the wings on my back. Big thanks to Twilitesea and Cyberbird for helping me with the final leg of the wing construction, ie: lots of hot glue burns. For a rather simple character design, I certainly made a lot of work for myself! It's rare these days that I find a series I love this much, and I wanted to make it count. :)

Personal Thoughts:

I think it's obvious that I really love Higashi no Eden. Once I found out Kamiyama was making a guest appearance at AnimeNext, I wanted to make something new that I could wear to his autograph session. I decided not to do Saki since I'm sure he would have gone home to Japan telling horror stories of the scary tall white woman pretending to be a tiny Asian girl. So instead, I made Shiratori, who is better suited for my bodytype and who I adore anyway! Thanks to Marty for the cigar cutter, Nicole and Christa for the lovely photos, and Greg (Takizawa) for being such a gentleman during our shoot.
Add a Comment