Most Recent Photo

Series

Character

Special Variation:

Songstress 3.0

Year Completed:

N/A

Construction Difficulty: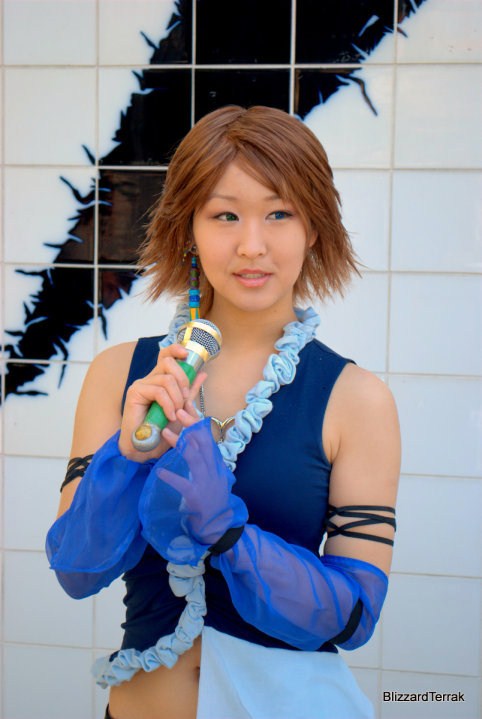 About this Costume
Construction Details:

New version of my Songstress Yuna. Wig is a Scruffy L that I colored darker, trimmed a lot, and styled with hairspray. My new version of Songstress Yuna. New sideskirt, new contacts, new wig, better makeup, new armbands, necklace. The new sideskirt is simply broadcloth that I fray-checked, and gradient dyed by painting on thin layers of gray/blue fabric paint. It didn't turn out quite the way I wanted it to, but at this point I'm done remaking the Songstress costume, even though I love it so much. XD Armbands are strips of black elastic that I hand sewed to just slip over my arms, and the body tape that I used to keep them up failed... Used old skirt, shorts, boots, sleeves, shirt and ruffles, earrings, hairtail. I'm SO MUCH HAPPIER with this version. It was so much lighter than my version 2.0, and I really love my wig. The wig was a Scruffy L from cosworx in 27, strawberry blonde because they were out of stock of the color 12. I used the fw ink method to darken the wig a bit, and swept back the bangs with hairspray. a lot of the upside down hairspray method was used, and I trimmed the layers a bit too. It's so much better and layered than my old wig! Another description of how I styled my wig: I got a Scruffy L from Cosworx in color 27 strawberry blonde because they were out of color 12 medium brown, and I darkened it to a nice brown with fw acrylic inks, alcohol, and markers. I pinned the wig to a wighead, turned it upside down, sprayed the heck out of it with hairspray, let it dry upside down, and when i turned it right side up the layers stood up a lot XD I had to brush it down with my hands a bit, and trimmed the layers a LOT. Then I shoved some of the fibers to the right, and trimmed the bangs on the right side, and for the bangs on the left, I sprayed them to the left of the wig. I spiked the layers with got2be styling glue, but used a bit too much on the bottom parts so it was too spiky, so I brushed out the wefts closest to the neck for a fluffy look. =) contacts are the Dollyeye blue and green. =)
Wig Details
Wig Brand

Wig Name

Original Color:

strawberry blonde
How was the wig colored?

fw inks, alchohol based artist markers

Styling Notes

lots of trimming, coloring, spiking.
Add a Comment