Most Recent Photo

Series

Character

Special Variation:

Sleepy Hollow Dress

Year Completed:

N/A

Construction Difficulty:

Normal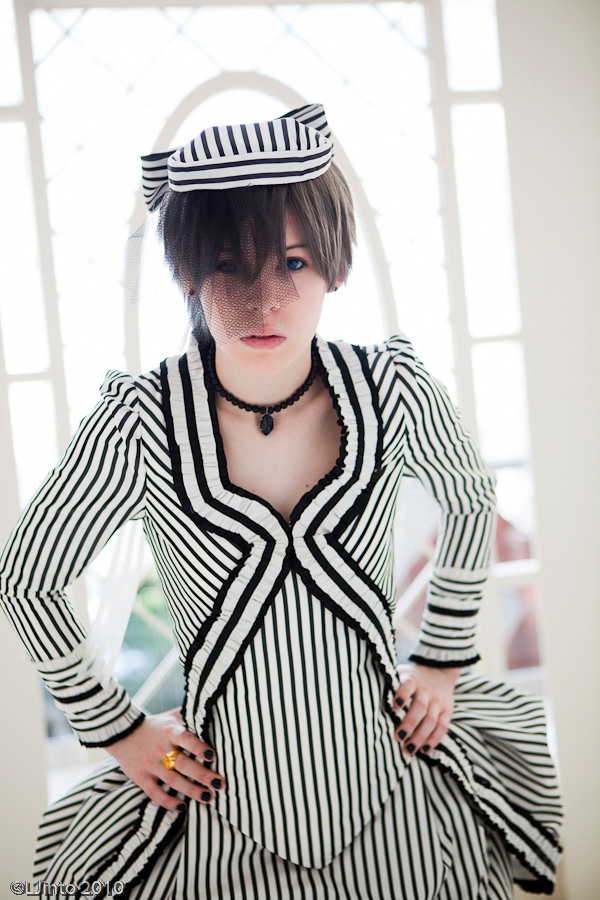 About this Costume
Construction Details:

So this is my newest Ciel costume! :D It's based on http://www.onemanga.com/Kuroshitsuji/8/01/ , which is based on the dress that Katrina wears at the end of Sleepy Hollow. :) I tried to make this dress as historical as possible. I finished all seams with either a whip stitch or seam binding with bias strips. The front of the dress is actually three layers: a lace up under bodice, a stomacher which connects to the under bodice with hooks and eyes, and an over bodice which connects to the stomacher with hooks and eyes as well. The petticoat ties around my waist. I also made the hat and fabric portion of the parasol. For the hat I used a very thick interfacing to get the shape and just sewed it all up. :) The parasol started out as a 1950s umbrella with deteriorating fabric, which I seam ripped and used as a pattern to create my own cover. Then I added the lace and fringe and put it back onto the frame. I also had to extend the length of the pole, so I sawed the original one and stuck a smaller steel pole inside, which I then painted ivory using craft enamel. The necklace "gem" was made using a plastic jewel which I cut and sanded to the right shape, painted with black nail polish and nail enamel, then used wire to create the "frame." Uncredited photos were taken and edited by the amazing photographer, http://www.flickr.com/photos/khedgecock/ .





Personal Thoughts:

This was different than anything I've ever tried to make before. It was really fun to make something historical (or at least, as historical as is possible while still using a modern sewing machine).