Most Recent Photo

Series

Character

Year Completed:

N/A

Awards

Best Prop at MTAC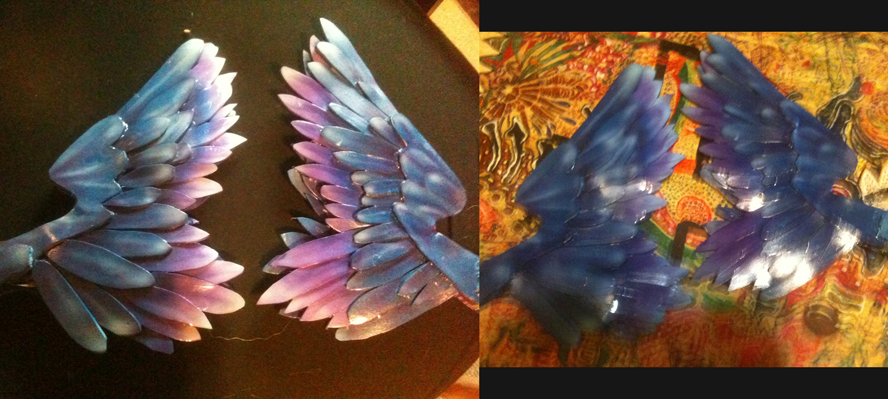 About this Costume
Construction Details:

☆~~** I won BEST PROP at MTAC 2011 for this cosplay - it's my very first award!! **~~ ☆ SO HAPPY! O(≧∇≦)O

________________________________________

I love Gwendolyn ! She is beautiful and strong and I love the design of her battle outfit. I also love her kind of emo attitude. As soon as I started playing Odin Sphere I knew I had to cosplay her.

This costume was all GLITTER. I wore body glitter over every inch of my body so I really shimmered! I'm sure it was almost blinding haha

**** REMADE THIS COSTUME APRIL 2011****

CONSTRUCTION:

The Headpiece is made out of many layers of craft foam then sealed with modge podge, airbrushed with shimmery blues and purples, sprayed with glitter, and then sealed once again with an enamel spray.

The Choker is made out of craft foam that I covered with gold fabric and velcroed in the back

The Bodice is made out of a stretchy fabric and the gold band is made the same way I did the choker and sewn onto the bodice

The Wings are airbrushed with shimmery blues and purples and then sprayed with glitter. The photos really don't do them any justice. The frame of the wings are chicken wire and duc tape and weigh about 8-10 pounds. They are also BENDABLE so I can shape them pretty much anyway I want.

The Black Skirt is made out of craft foam with grommets at the ends and painted a sparkle black

The White Skit is fabric that is scrunched up in the back to make it stick out and flare like Gwen's does in the game

The Tutu is a ballet tutu and you can't really tell from the photos but it stuck out pretty far!

The Sphere is made out of plexiglass that I cut with shears ( KILLED my hands!! ) painted a LIGHT coat of metallic blue, and then installed EL wire inside. It glows so pretty!! I can also make it glow solid or make it blink slow or blink really fast.

The Leg Armor was made with styrene backed with craft foam. Primed with Mod podge, painted with shiny acrylics, sprayed with glitter, and then set with enamel. I DO NOT RECOMMEND THIS METHOD FOR LEG ARMOR. It was really painful and too hard to move in.

The Leg Armor Wings are made out of layers of craft foam that I hot glued together. Then I drenched them with a coat of mod podge which left a light texture and kept the foam from absorbing the paint. I airbrushed it with pearlized airbrush paint and followed that up with an airbrushed glossy top coat.

If anyone has any suggestions on how to improve this I would appreciate the feedback. If you have any questions about how something was made please feel free to contact me.