FOR SALE (Costume Only)
Minimum Price: $20
- Includes white halter tail coat thing, pink thigh high socks
- DOES NOT include gloves, black/gold top, shorts, sock garters, belt, boots not included.
MEASUREMENTS
White Halter Tail Coat Thing:
- I've no idea how to measure this because of the nature of the garment. But to give you an idea, I'm a petite 5'2.5" tall with an 34A bust. As long as you're within my physique, I think you should be fine.
- The length however is 37" from center back.
- The back of the halter wraps around the small of my back at 17" from center back.
- 3 chains included, 2 for front, 1 in back.

Most Recent Photo

Series

Character

Year Completed:

2008

Construction Difficulty:

Normal

Costume worn at:
This Costume has been retired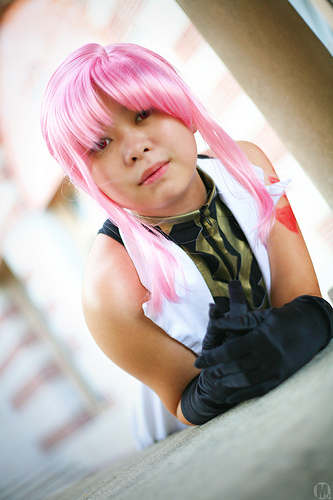 About this Costume
Construction Details:

It was interesting figuring out her white halter tailcoat thing and yeah...I flaked out on making her fugly cape, sorry lol. Black top made out of jersey. Gold detail was cut out from pleather and glued on. Shorts were bought and altered. Halter tailcoat made out of stiffer cotton and is lined. Sock garters made from some sort of pleather material. Wig was pulled up into a ponytail that was then separated into two smaller ponytails and hairsprayed for volume.

Personal Thoughts:

UGH, CLAMP DESIGNS. I also need to find a way to keep those sock garters up. :T
Add a Comment