Most Recent Photo

Series

Character

Item Name

Laser Blaster Gun

Year Completed:

N/A

Construction Difficulty:

Very Easy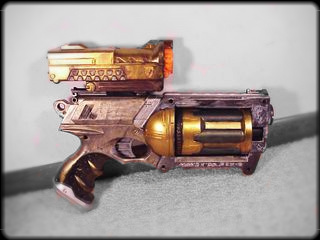 About this Prop
Construction Details:

Okay I know I did this for Star Fox but I am actually am dressing up as the Brawl version so it has to go under here too! This is a nerf gun. BUT I painted it and modified it a bit to look more like a space blaster! I love the colors! I will edit it a little bit more...the green do not look too real to me!

Personal Thoughts:

Oh yeah! How many people do you see cosplaying as someone from Star Fox! Well now I am one of them! Well I am cosplaying as Falco but their Blaster Gun is the same for Fox as well. This is a nerf gun (yeah I didnt make it but it looks real similar and big!). BUT I did paint it and I think the paint job looks really good! Everything looks real...except for the green which I'll figure out what I am going to do with that! Enjoy!
Add a Comment