Most Recent Photo

Series

Character

Year Completed:

N/A

Construction Difficulty:

Costume worn at: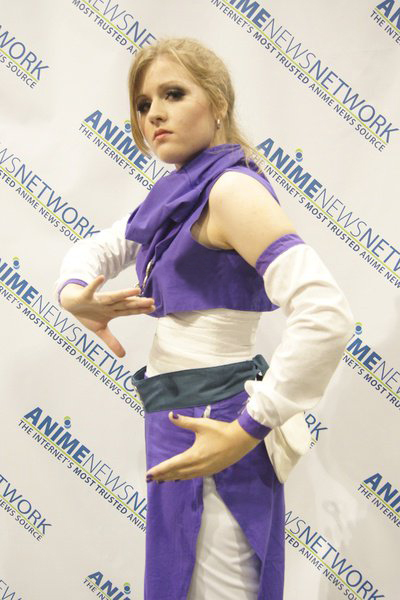 About this Costume
Construction Details:

My mom and me made the shoes by following a

tutorial

I found online and used blue canvas from Hancock's fabric (which no longer exists in California!). My mom didn't really understand the tutorial so I would tell her where to sew. They came out really good, but since they lack a toe piece, it's easy to trip in them. This caused me to stretch them out.

The armwarmers were made by putting elastic at the top in the purple bands and then velcroing the bottoms of the purple together at the wrists. The white part of the gloves gradually concave and there is a split at the wrist. They are made of cotton. We received advice from a cosplayer, Snakeninja, who used to work at the fabric store.

The top was made by taking a t-shirt pattern and editing it through a mock shirt with muslin. I dismissed the sleeves and then made the pentagon collar by using some geometry skills I probably no longer possess. I put earrings at the places I thought they'd be, making sure they were evenly placed from each other. I had to make the neck hole really big. Using the neck measurements, I created a collar that looks like a giant triangle with more math skills of days-gone-by. Its seams are the opposite of the rest of the garment so it can be folded down and look correct.

I used a skirt pattern of my mother's and edited it. I made it gradually get smaller towards the knees. On one side there are locks so the pieces stay on me. My mother did all the sewing, however.

I bought earrings from Claire's and bought two Konoha headbands from Hot Topic, because my hips were too big to tie the headband on my waist! I cut the ends off one and then cut the entire band off up to the headband. Then sewed them together. This was expensive but at least the color matched.

For the wraps, I bought long Johns and cut the legs off up to above the knee, and my mom heamed it. After experimenting with wrapping strips of cloth around myself and that failing, I bought white Johnson-Johnson bandages from Rite-Aid. Since they are self-stick they work great on my stomach, but not so much on my legs. I just didn't put them there, but now days, we know how to sew stretchy fabrics together and probably could get them on my thighs.

I also bought a kunai holster, a pouch, and 2 kunai from Toys N Joys.

Personal Thoughts:

Ino was my first real cosplay. I remember that my sister had decided she wanted to cosplay Gaara as her first cosplay, and I wanted to do someone from Naruto since that was my manga passion at the time. I believe I wanted to be Shikamaru since he is my favorite, but knew I couldn't do the hair. My mom was telling me to do something easy (since she was sewing it) and I thought Ino was easy and I could use my own hair. And I did like Ino, especially from the Chunin exams.

My passion for this character only grew as we made the costume and I became a greater Naruto fan. Although most disregard her as being weak and Sakura #2, I think they just don't understand her relationship with Sakura. In the beginning of the series, she and her teammates were humorous. I only wish Kishimoto would bring back the fire she used to have and actually let the girls fight.

I love Team 10's relationship and think they have a great bond. And this relationship made me really want to cosplay her. I have vowed to cosplay Ino again and get Team pictures.
Add a Comment